LCMS-2050 – Providing High Speed and High Sensitivity Analysis in a Compact Design –

In 2022, Shimadzu released the LCMS-2050 high-performance liquid chromatograph mass spectrometer. The product was designed to satisfy the growing demand from liquid chromatograph (LC) users who want to use a liquid chromatograph mass spectrometer (LC-MS) to acquire reliable data with high sensitivity. Because LC users typically believe that additional knowledge is required to fully utilize an MS (mass spectrometer) or have limited space for what is typically a large system, overcoming such objections was the main mission of the LCMS-2050 development team. The engineers who continuously fought those battles during the approximately four years of development spoke passionately about their memories.
Breaking Conventions to Create New Value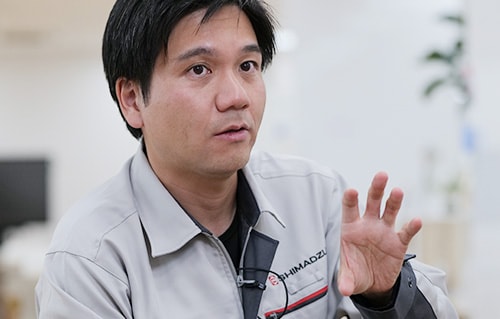 Keisuke Iso
The product was developed by about 20 people in five development teams. The teams were the mechanical unit development team, electrical unit development team, firmware development team, software development team, and application development team, which proposed analytical techniques. The project was also unusual because it was a collaboration between the MS Business Unit and LC Business Unit.
"In many cases, the common wisdom of the MS Business Unit was dissimilar from the LC Business Unit Therefore, participation by the LC Business Unit members was very meaningful for the LCMS-2050 development project." (Keisuke Iso, Development Leader)
The LCMS-2050 development process also required the teams to anticipate the needs of LC users unfamiliar with MS in order to develop hardware and software operations LC users want.
"What features would LC users find easy to use?" The software development team leader Kazuma Maeda from the MS Business Unit enthusiastically took on the challenge of developing LabSolutionsTM software that offers new product value without being biased by his own deeply rooted MS sensibilities.
The application development team leader, Katsuaki Koterasawa, had used only LC systems since he was a university student. "We focused on achieving the accuracy and sensitivity LC users were seeking."
The concept was to never stray from developing a system for LC users.
Discussions and Communication that Supported Development
Maeda gave multiple presentations to provide a visual and easy-to-understand summary of new software concepts to development team members while also actively listening to and discussing feedback from a variety of people. It was the members most familiar with MS who expressed negative views about the ideas presented from the perspective of LC users. Therefore, Maeda struggled to promote constructive discussions based on the product concepts. "However, considering the different backgrounds of LC and MS members, it is only natural that they would have conflicting views. In that context, the views expressed by those most familiar with LC were often positive. Consequently, we were able to make it all the way through the development process without losing faith in the project."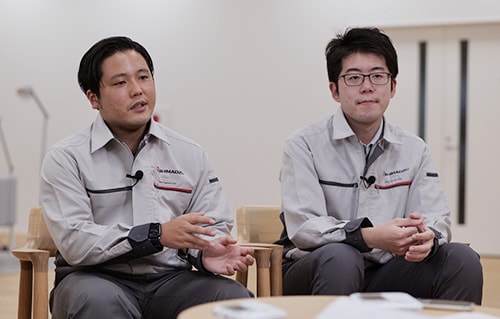 (left)Kazuma Maeda (right)Katsuaki Koterasawa
Similarly, Koterasawa carefully listened to views from both MS and LC members so he could use data to clearly show the benefits of MS analysis to LC users. In addition, Koterasawa, who used to be an LC user, is a good comrade of Maeda. "Maeda frequently asked for my opinion, such as by asking 'What do you think about an operating screen like this?' I would then respond with my views, such as: 'The parameter settings should probably be made consistent with settings for other LC detectors.'"
"The more one is in a position of needing to coordinate team members, the more important communication is. The fact that team leaders consistently remained aware of relevant issues, actively expressed views, and proposed and discussed solutions resulted in recognizing the core product concepts and implementing an unwavering development process." The development leader, Iso, placed an enormous amount of trust in the team leaders.
Making Trade-Offs to Maximize Respective Strengths and Positively Think of Functionality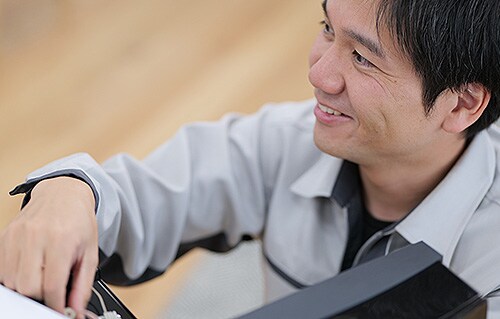 Maeda was well aware of features that could never be eliminated from an MS system. For example, on the screen for specifying analytical conditions, more parameters are considered better for MS systems, whereas fewer are considered better for LC systems. That trade-off resulted in including both screens and switching between them depending on the settings.
"Development of an MS system intended for use by LC users will not be successful if only the views of either LC or MS users are prioritized. Therefore, we tried hard to actively listen to the views of various people, so we not only understood but also empathized with their perspectives. That effort resulted in an effort to utilize the respective advantages of LC and MS in a complementary way, which led to inventing the Mass-itTM function." Maeda was especially moved by the fact that even the MS engineers who expressed negative opinions eventually related to the views of others.
When the LCMS-2050 was assembled for trial operation, all five development teams gathered anxiously. Iso commented: "The first time ions were confirmed, I felt a tremendous feeling of joy and relief." It was the moment all development team members felt a sense of being emotionally moved.
"I want many other people to share that feeling of how wonderful the LCMS-2050 is and hopefully experience using the product. We also hope to contribute to society by providing the LCMS-2050." That is the desire of all the development team members.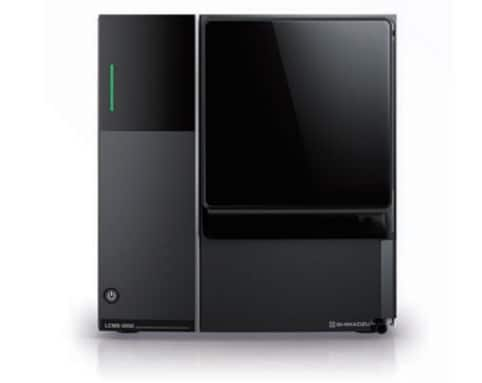 LCMS-2050
From a design perspective, the LCMS-2050 successfully achieves an advanced look that is easy to understand by users new to MS. Surely, it will prove to be a valuable asset to future laboratories.
Copied