SHIMADZU Diversity and Inclusion Week 2022

Shimadzu Corporation has convened a Diversity Day every year since 2020. In 2022, Diversity Day was broadened to "SHIMADZU Diversity and Inclusion Week 2022", which ran from December 5 to 9. All Shimadzu Group companies had time together to think about diversity and inclusion (D&I).
Various lectures and events were conducted as opportunities to consider what D&I is from the point of view of oneself, one's associates, and one's company based on the themes for each day, such as Gender Equality, Disabled Persons Playing an Active Role, and Coordinating with Group Companies in Japan and Other Countries.
Keynote Speech: Only Diverse and Inclusive Organizations Survive
The keynote speech was delivered by Piotr Feliks Grzywacz, an entrepreneur and management consultant, and CEO of The Pronoia Group.

In his speech, entitled "Only Diverse and Inclusive Organizations Survive — "Inclusion" of deep-level diversity enhances the power of the organization," he talked about how individual values change with the times and how corporate priorities can be determined in unstable situations. He described in detail approaches to the building of new norms and the new careers that will be needed in the years to come, and emphasized the importance of Diversity, Equality, and Inclusion (DE&I). His speech had a strong impact on Shimadzu Group employees.
An Organization Where Everyone Can Play an Active Role: Lecture on LGBTQ Diversity
Ayumu Horikawa (President & Representative Director of Akaruku Inc.) gave a talk on the topic: "Thinking about LGBTQs from the Perspective of Diversity—Aiming for an Organization Where a Variety of Employees Can Play an Active Role."
Horikawa talked about LGBTQ basics and what one can do as an "Ally" (someone who understands and supports LGBTQs), while basing this on case studies and Horikawa's own experiences as a transgender individual.
"Shimadzu x LGBTQ + Ally" activities will be promoted in the Shimadzu Group, to deepen understanding of LGBTQ individuals and create a workplace environment where everyone can work in their own way.
The Shimadzu Diversity logo has been arranged within a rainbow, the LGBTQ theme colors, to incorporate the message that we stand with LGBTQs. Stickers will be distributed to anyone interested in-house.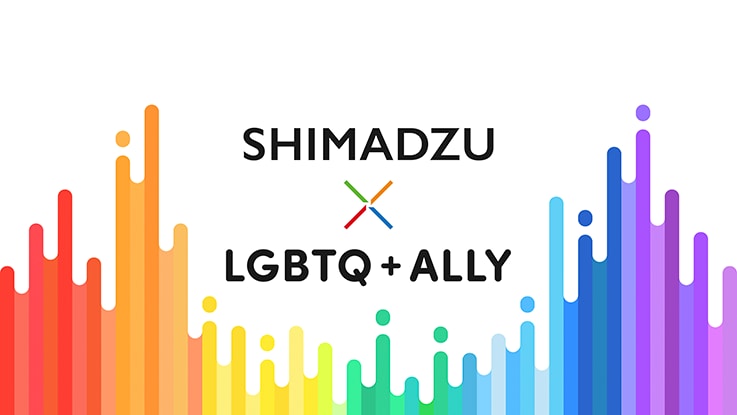 To Consider D&I More Closely and Express It as a Personal Issue - Senryu Poems and Artwork Competition-
In addition to the senryu poems entry program, which gained popularity last year, this year we called for new artwork submissions. A total of 126 poems and 16 pieces of art were submitted. Employee voting was held to encourage thinking about D&I not only through submissions, but also by reading the poems and viewing the artwork.
The senryu with the most votes
"D&I"/I take to mean/"Compassion"
「D&I」 私はこう読む 「おもいやり」
Global Feast: An International Menu for Experiencing the Food Cultures of Various Regions
Continuing from last year, 34 dishes and desserts from 17 countries representing the birthplaces of international employees working in the Shimadzu Group appeared on our cafeteria menu for one week. Employees reported that these dishes were delicious and that they ended up eating far too much.
International employees also planned to introduce recommended dishes from their hometowns, creating an opportunity to experience a variety of cultures through food.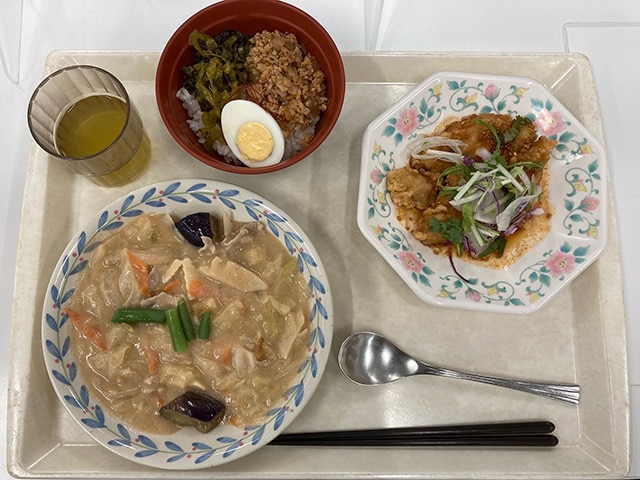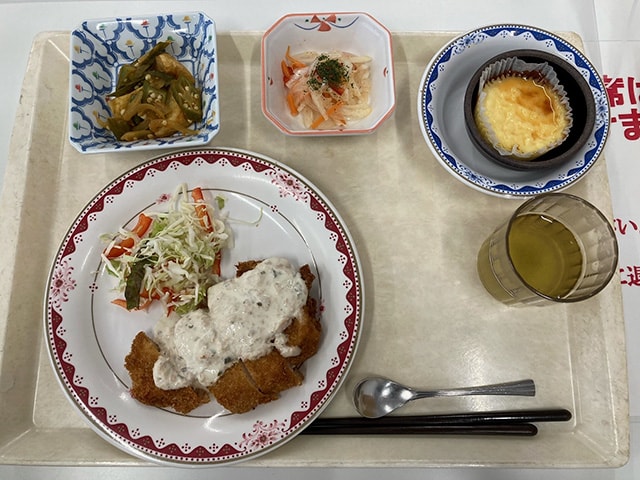 Expressing Ourselves Authentically
Opportunities were provided for individuals to think about D&I from a variety of angles. These included a roundtable discussion by a Shimadzu employee in a management position entitled: "Management Job is Interesting?!" There were also case studies of male employees who took childcare leave, the introduction of D&I related videos, and a dialogue with employees with disabilities.
Comment from the Director in Charge of Human Resources, Diversity Management, and Health Management
Yoshino Kajitani, the Managing Executive Officer in Charge of Human Resources, Diversity Management, and Health Management, had the following to say:
For five days in 2022, D&I events were held with participation not only from employees at the Shimadzu Head Office, but also at from locations throughout the world, and Group companies in Japan and other countries.

D&I Week was initiated by the entire Shimadzu Group, with the hope that everyone would have time to think again about diversity, make further discoveries, and have fresh insights.

D&I measures often tend to be thought of as something promoted by the company, but it is important to be aware that D&I applies to everyone, whether in the majority or a minority.
As with everything else, change starts with awareness.

I hope Shimadzu Group employees found several awareness-building opportunities, thought about how D&I relates to themselves, understood and tried to accept mutual differences on an individual basis, and reflected a bit about our associates in this way during D&I Week.
Page Title and URL Copied.