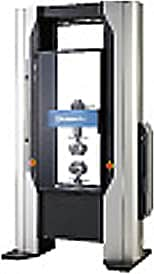 Universal Testing Machines : Ball Screw System AUTOGRAPH
Designed for reliability and ease-of-use, these precision universal testers provide high control and measurement performance.
For the three most important functions of a testing machine - setting, measurement, and inspection - enjoy the highest level of performance available. TRAPEZIUM X PC software uses newly designed, state-of-the-art.
System Functions
Static test is to measure the mechanical properties of materials or products.
The mechanical properties of the specimen are examined from the relationship between the 'displacement' and the 'force' applied to the test specimen. Acquired data is used for material selection, material acceptance, obtaining mechanical property values for simulation, and evaluating the fracture strength and stiffness of products.