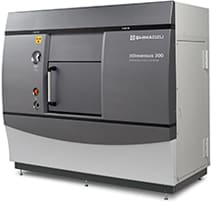 CT Microfocus X-Ray Fluoroscopy / Computed Tomography System
The large detection area, input resolution equivalent to 14 megapixels, and an enhanced high-output microfocus X-ray generator enable CT images with a large field-of-view, high resolution, and high contrast. In addition, the improved HPC inspeXio high-performance computing system processes images faster.
System Functions
The inspection target (sample) is positioned between the X-ray generator and the X-ray detector. X-ray fluoroscopic data is collected from every angle by rotating the sample 360 degrees, and computed tomographic (CT) images are calculated.