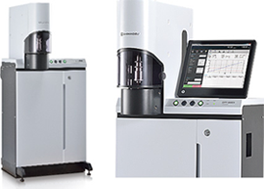 CFT,SMV Constant Test Force Extrusion Type Capillary Rheometer Flowtester
[CFT-EX Series]
Efficient testing with a reliable evaluation method
Natural, easy test flow
Supported by more than 50 years of technology and know-how
[SMV-301/301RT]
<Full Compliance to Global Standards>
The SMV-301 / 301RT allows the user to measure the Mooney viscosity, scorch time, minimum Mooney viscosity, and other characteristics of rubber in accordance with JIS, ISO, and ASTM test methods. With outstanding temperature recovery characteristics and easy operability, it can also be used for stress relaxation measurements or for tests that involve varying the rotor speed.
<Excellent thermal stability and temperature recovery characteristics enable high reproducibility.>
<Also supports stress relaxation testing, cycle testing, and variable rotor speed testing.>
System Functions
[CFT-EX Series]
The sample is introduced into the cylinder, melted by application of heat and then subjected to a constant pressure applied by a piston positioned above the sample. The melted sample is extruded through a narrow orifice in a die. Its flow rate is determined from the speed of the piston at that time, and the sample fluidity, referred to as melt viscosity, is calculated.
[SMV-301/301RT]
A drive motor rotates a rotor in the center of a cylindrical test chamber formed from upper and lower dies. The test chamber is filled with the sample and the rotor is rotated with the sample heated to a given constant temperature. The torque on the rotor, applied by sample resistance, is detected by a load cell and measured as the sample's Mooney viscosity.