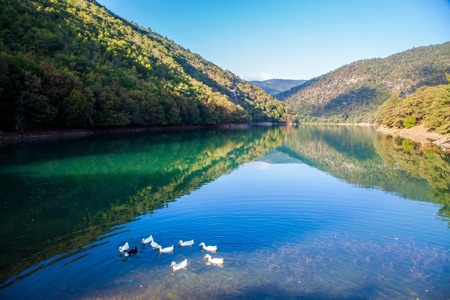 In recent years, the pollution of environmental water by organic pollutants has become a global problem. It is important for environmental conservation to manage and reduce organic substances entering rivers and the sea.
Application News
FTIR Spectroscopy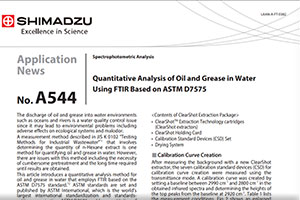 The discharge of oil and grease into water environments such as oceans and rivers is a water quality control issue since it may lead to environmental problems including adverse effects on ecological systems and malodor.
This article introduces a quantitative analysis method for oil and grease in water that employs FTIR based on the ASTM D7575 standard. ASTM D7575 enables quantitation of oil and grease in water with a simple measurement method that utilizes the absorption band of CH groups, thereby eliminating the need for solvent extraction.
TOC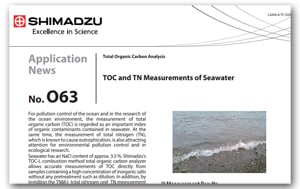 For pollution control of the ocean and in the research of the ocean environment, the measurement of total organic carbon (TOC) is regarded as an important index of organic contaminants contained in seawater. At the same time, the measurement of total nitrogen (TN), which is known to cause eutrophication, is also attracting attention for environmental pollution control and in ecological research.
Shimadzu's TOC-L combustion method total organic carbon analyzer allows accurate measurements of TOC directly from samples containing a high concentration of inorganic salts without any pretreatment such as dilution. In addition, by installing the TNM-L total nitrogen unit, TN measurement is also enabled. This makes possible simultaneous measurements of TOC and TN.
In Japan, water quality standards and inspection methods are provided for inlet hot water (unrecycled hot water supplied directly to the bath), original water (water used for hot water and temperature adjustment), and bathtub water used in public bathhouses. This article introduces an example of evaluation of the organic content in hot spring water used as bathhouse water and water containing bath additives using a Shimadzu combustion-type TOC analyzer.