Measurement of Solidification and Melting of Engine Oil (DSC)
In addition to a lubricating action, engine oil plays many important roles in protecting an engine, including sealing, cooling, corrosion-prevention, and cleaning actions.
One method of classifying engine oils is by viscosity, and these classifications are defined by the SAE (Society of Automotive Engineers) in the USA. These classes provide guidelines about the external temperature conditions in which the oil can be used.

The difference between engine oil solidification and melting was measured using a DSC Differential Scanning Calorimeter. Engine oil was solidified by cooling from room temperature to -120°C and then melted by heating up to room temperature.
Engine oil solidification commences at approximately -20°C. It is fully solidified at -98°C. Melting can be seen to occur over a wide range from about -91°C to -10°C during heating.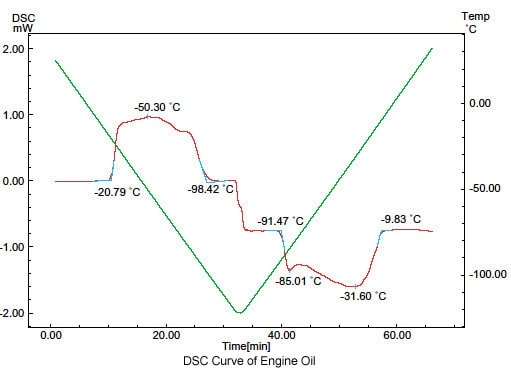 A newly developed high-sensitivity detector doubles the previous peak heights. The 1 µW (RMS) max. noise level permits cooling measurements without the need for options. Automatic detector cleaning.