N-Terminal Amino Acid Sequencing og IgG Antibodies
Recently, the term "biomedicine" is often heard in the field of pharmaceuticals. While also called biopharmaceuticals, they refer to proteinaceous drugs and antibody drugs developed and manufactured using biotechnologies including genetic recombination, cell fusion, and cell culture. In contrast, conventional medicines are referred to as "low molecular drugs" and are produced through chemical synthesis. While both types are chemical compounds, compared to chemical synthesized low molecular drugs, biomedicines characteristically have a much higher molecular weight. Of the top 10 drugs in all pharmaceuticals sold worldwide in 2015, seven were biomedicines.
Biomedicines are highly effective, low in side effects, and can be used to treat a wide range of illnesses. Unfortunately, unlike low molecular drugs that until now have been mainstream, mass production of biomedicines is not possible in the same way as chemical synthesized products. Biomedicine production comprises multiple processes including manufacture, refinement, dosage form design, and storage. In order to guarantee the quality of biomedicines, influences originating from raw materials and manufacturing processes need to be taken into consideration in addition to performing qualification testing of products. This means that management of manufacturing and quality of drugs requires a different approach compared to chemical synthesized low molecular drug products. Guidelines currently exist for evaluating the quality of biomedicines. These guidelines require that characteristic analysis is performed and one type of characteristic analysis is N-terminal amino acid sequencing. This analysis is performed to compare and verify the N-terminal amino acid sequence presumed from the gene sequence with the N-terminal amino acid sequence of the biomedicine product. The analysis technique used is the Edman method. This technique determines amino sequences by cleaving amino acids sequentially from the N-terminus of proteins and obtains very reliable amino acid sequences. The PPSQTM- 51A/53A Protein Sequencer is a system that automates this technique. This system facilitates identification of amino sequences from the N-terminus of target proteins and peptides.
This article introduces an example of amino acid sequencing of mouse antibody IgG using the PPSQ- 51A/53A Protein Sequencer isocratic system as an instance of N-terminal amino acid sequencing of biomedicines.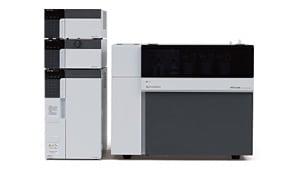 The PPSQ-51A/53A continues the tradition of providing reliable and sensitive N-terminal protein sequencing to researchers through automated Edman Degradation. Whether transitioning over from another sequencer or adopting the technique for the first time, the intuitive software and robust Shimadzu hardware will make protein sequencing easy on your laboratory.