Analysis of Favipiravir in Human Plasma LC-MS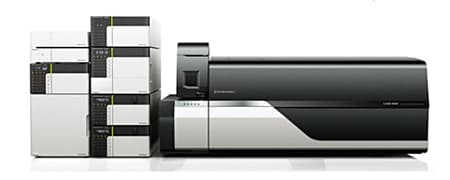 Favipiravir (brand name: Avigan®), which was developed by FUJIFILM Toyama Chemical Co., Ltd, is one of the RNA polymerase inhibitors used to treat influenza. This report introduces the results of research into a system for analyzing favipiravir spiked with plasma using LC/MS/MS, a method that demonstrates outstanding selectivity (Fig. 1).
Analytical Conditions and Pretreatment of Samples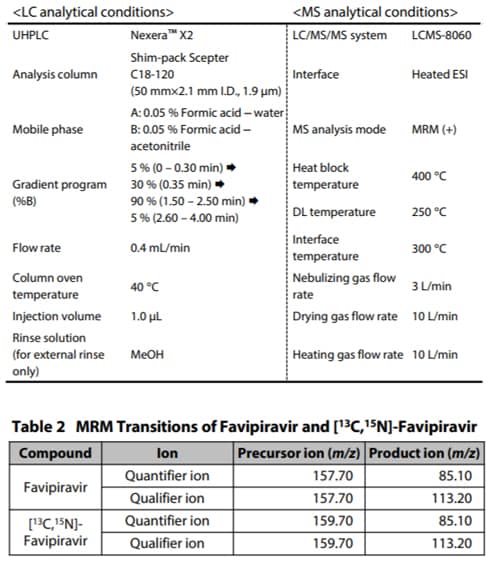 Favipiravir (PN: C8720*1), as the target compound, and [13C,15N]- favipiravir (PN: C8853*1), as its stable isotope, were purchased from Alsachim, one of the companies of the Shimadzu Group. [ 13C,15N]-favipiravir was used as the internal standard (ISTD). The structural formulas of favipiravir and [13C,15N]-favipiravir are shown in Fig. 2. Favipiravir was spiked with commercially available human plasma treated with EDTA 2K to prepare a calibration curve. For analysis, the LC and MS analytical conditions shown in Table 1 and MRM transitions shown in Table 2 were used. Shim-pack Scepter™ C18-120 (50 mm×2.1 mm I.D., 1.9 µm, P/N: 227-31012-03) was used as the analytical column.
Fig. 3 shows the MS chromatograms. A calibration curve was prepared using calibration points at plasma concentrations of 1, 2, 5, 10, 20, 50 and 100 µg/mL for favipiravir (n = 5 for each calibration point). [13C,15N]- favipiravir (20 µg/mL) solution was prepared using acetonitrile and used as ISTD.
The pretreatment flow is shown in Fig. 4. Samples were prepared as follows ; 20 uL of 75% isopropyl alcohol(IPA), 50 µL of plasma, 10 µL of ISTD and 200 µL of acetonitrile were mixed and shaken sufficiently, and then centrifuged. The obtained supernatant was transferred to an LC vial and analyzed.
The LCMS-8060 features an optimized ion guide and new technologies incorporated in the ion transport optical system.