Inorganic Ions & Metal Elements in Soil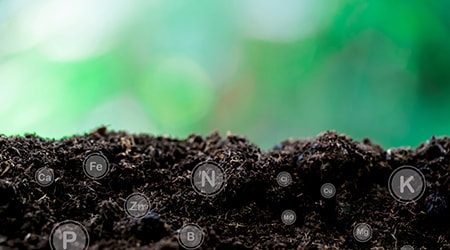 As soil samples often contain extremely complex coexisting substances at high concentrations, measuring the trace elements is particularly difficult. This type of analysis requires a highly sensitive instrument, such as an ICP-OES, that is relatively unaffected by the coexisting substances.
Application News
ICP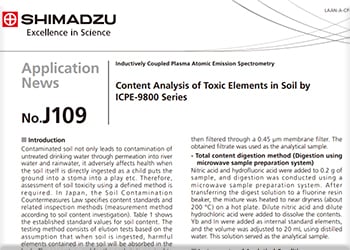 Contaminated soil not only leads to contamination of untreated drinking water through permeation into river water and rainwater, it adversely affects health when the soil itself is directly ingested as a child puts the ground into a stoma into a play etc. The testing method consists of elution tests based on the assumption that when soil is ingested, harmful elements contained in the soil will be absorbed in the body. The apparatus used for the analysis is required to accurately measure those elements at trace concentrations equivalent to or lower than the reference values. Here, using the Shimadzu ICPE-9800 series multi-type ICP atomic emission spectrometer, we conducted content analysis of soil. The ICPE-9800 series, with its mini-torch plasma and spectrometer capable of simultaneous analysis of all elements at all wavelengths, can be used to conduct high-throughput, low-cost analysis with high sensitivity and high precision.
LCMS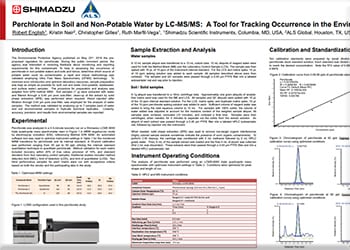 The Environmental Protection Agency published on May 23rd, 2019 the preproposed regulation for perchlorate. During the public comment period, the agency was interested in receiving feedback about monitoring and reporting requirements for this contaminant. To help in assessing the occurrence of perchlorate in non-potable waters and soils and hence, determine which source of potable water could be contaminated, a rapid and robust methodology was validated employing Ultra Fast Mass Spectrometry (UFMS) technology. To minimize error introduction and optimize laboratory resources, sample preparation was kept as simple as possible for both soil and water (non-potable, wastewater, and surface water) samples. The procedure for preparation and analysis was adapted from EPA method 6850. The method was validated by analyzing up to 7 samples each of water and soil environmental samples in triplicate technical replicates. Linearity, accuracy, precision, and results from environmental samples are reported.
IC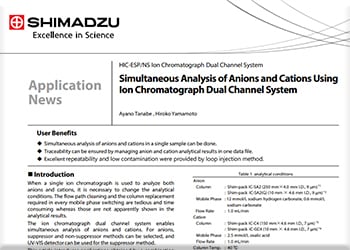 When a single ion chromatograph is used to analyze both anions and cations, it is necessary to change the analytical conditions. The flow path cleaning and the column replacement required in every mobile phase switching are tedious and time consuming whereas those are not apparently shown in the analytical results. The ion chromatograph dual channel system enables simultaneous analysis of anions and cations. For anions, suppressor and non-suppressor methods can be selected, and UV-VIS detector can be used for the suppressor method.
This article introduces applications obtained by a combination of anion analysis with an electrodialysis-type suppressor system HIC-ESP and cation analysis with a non-suppressor system.
Related Products
The LCMS-8060 features an optimized ion guide and new technologies incorporated in the ion transport optical system.

ICPE-9800 Series of simultaneous ICP atomic emission spectrometers are next-generation systems that offer the superior accuracy necessary to simultaneously and quickly analyze multiple elements regardless of their concentration levels.

The HIC-ESP is a new anion suppressor ion chromatograph with built-in electrodialytic suppressor, boasting the same low carryover and excellent injection precision characteristic of Shimadzu HPLCs to bring you highly-reliable results.