Cell Pocket Ver.2 - Features
Web Application Supporting Cellular Observations
Quantify the visual state of cells from various aspects
Analysis recipes can be made in three steps
Constructed recipes can be used routinely for the same purpose.
Step1 Preparation of the trained model
Cell Pocket equips the preparation function of trained models to deduce cell or colony regions by using a user's image data.
Step2 Selection of analysis processing scripts
Cell Pocket contains 14 kinds of commonly used analysis processing scripts. By assembling them, a variety of analysis recipes can be constructed. It is also possible to describe and add scripts on your own.
| | |
| --- | --- |
| Image processing | Combine images, Overlay, Simple binarization*, Adaptive binarization*, Binarization* with signal background ratio |
| Analysis | Cell count, Particle analysis, Defect detection, Texture similarity, Coverage, Coverage distribution |
| Graphing | Heat map, Histogram, Scatter diagram |
* "Binarization" means image processing for a discriminating area of interest or that of no interest. For example, this is used for discriminating nucleus and no cell region.
Step3 Optimization of parameters for analysis processing scripts
Parameters for analysis processing scripts can be adjusted with the user interface. The figures below show analysis examples before and after changing the parameters for the threshold of defect cells.
Centralized management of all data from cell observation work
Manage data via a Web application
After installing a server PC in your office, you can use this system via a web browser.
Note: Up to 20 users per one server PC
[Office]

・Data view, arrangement, analysis

・Uploading reports


[Lab]

・Data acquisition

・Uploading images
At-a-glance viewer for cell culture information
Display culture conditions, acquired data, analyzed results at a glance.
Reduces labor time for comparing with past results, searching acquired data, sharing the experimental progress.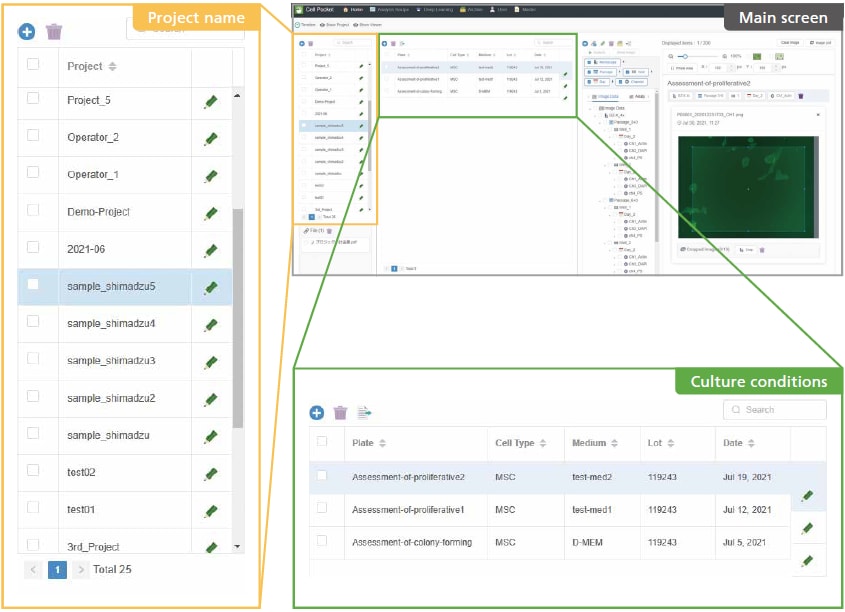 User interface specialized for cell culture management
Input culture conditions with ease and without omission
- Input by selecting options of cell culture conditions, such as cell line and culture medium.

- Cell culture information input from lab members can be consistent using the "template input" function.

- New templates can be created and administrative users can edit the template freely.
Batch analysis can be performed on a cell culture management screen
Multiple recipes can be simultaneously applied to the registered image data.
Analysis processes are automatically executed one after another.
Since Cell Pocket has both data management and analysis functions,
it is easy to compare analyzed data among different cultured batches and explore acquired data.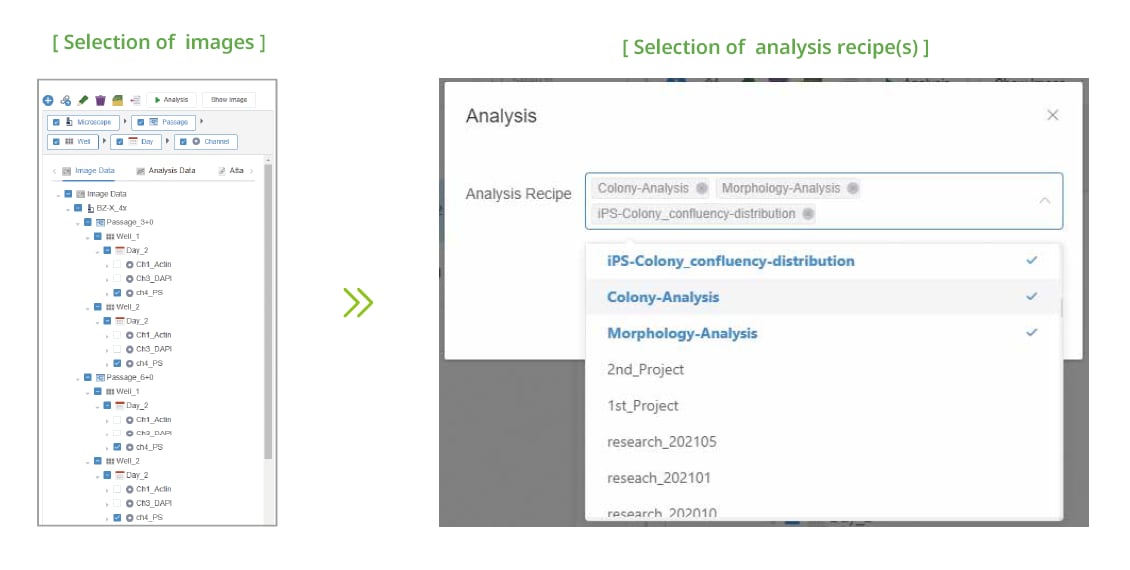 Downloads
Download the latest brochure.