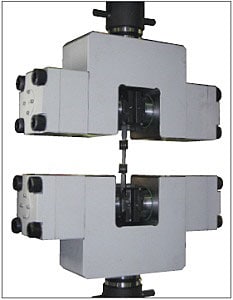 Relevant Materials:
Plastics, Metals, Lumber

Relevant Specimens:
Plates, Rods

Relevant Standards:
ISO 6892, JIS Z2241
A strong gripping force during testing and high precision control required for ISO 6892 strain control is offered by parallel tightening hydraulic flat grips. Applicable materials include high tensile strength materials such as rigid plastics, metals, and lumber, in flat plate and rod specimen geometries.

Parallel tightening hydraulic flat grips are available in 100 kN (22,000 lbf) and 300 kN (66,000 lbf) capacities. These grips come as sets, which include upper and lower grips and file-teeth grip faces for flat specimens. In addition, certain compression and bending jigs can be connected directly to these grips.
{"title":"Downloads","description":"Download the latest brochure.","source":"product","key":4569,"max":"30","filter_types":["brochures"],"link_title":"View other Downloads","link_url":"","pdf_links":[]}
{"title":"Applications","source":"product","key":4569,"max":"3","filter_types":["applications","application_note","posters"],"link_title":"Learn more","link_url":false,"config_list":[],"page_links":[]}
{"title":"Technical Documents","source":"product","key":4569,"max":"3","filter_types":["technical","technical_reports","white_papers","primers"],"link_title":"Learn more","link_url":"#tbaleAnchor_technical","config_list":[],"page_links":[]}
{"title":"Manuals","source":"product","key":4569,"max":"3","filter_types":["manuals"],"link_title":"Learn more","link_url":"#tbaleAnchor_manual","config_list":[],"page_links":[]}