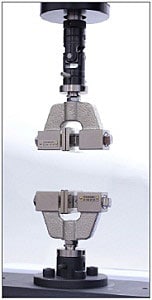 Features:
Applicable for testing rubber, plastics, textiles, cloth, and paper
Standard models with maximum capacity up to 5 kN (1,100 lbf)
Additional stainless steel models with an extended temperature range up to 320 °C (608 °F)
Compatible with thick specimens, up to 16 mm (0.63 in)
Straightforward sample mounting using knurled knobs or a T-wrench


Relevant Materials:
Rubber, Plastics, Textiles, Cloth, Paper

Relevant Specimens:
Plates, Wires
Screw flat grips are general-purpose grips used for static tensile testing of a wide range of materials, most commonly, rubbers, plastics, textiles, and paper, and specimens such as plates and wires. Another advantage of these grips is they can be used to test thick specimens, up to 16 mm (0.63 in).

There are two types of manual screw flat grips: standard and stainless steel. Standard models have an operational temperature range from -70 to 250°C (-94 to 482°F), whereas stainless steel models are capable of operating over an extended temperature range of -70 to 320°C (-94 to 608°F).

Single-side file-teeth grip faces come standard on 1 kN (220 lbf) and 5 kN (1,100 lbf) capacity grips, and 50 N (11.0 lbf) capacity grips have flat grip faces. Additional grip face options include waves, rubber-coated, high-strength rubber-coated, grip faces for grab tests, and line-contact grip faces. Grip faces are easily exchanged. See the document on Grip Faces for Manual Screw Flat Grips for further information on grip face options.
Downloads
Download the latest brochure.