Concrete Comprission Testing Machine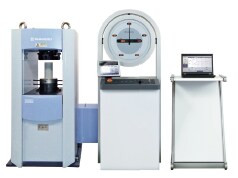 CONCRETO Series This compression testing machine can safely and efficiently perform tests at a high capacity without causing explosive fracture (failure of the specimen) on ultra-high-strength concrete, which is used as a structural material in high-rise buildings, etc. This one machine can be used for materials ranging from ultra-highstrength concrete to specimens that have been recently cast, mortar, etc.
Features
Needle indicator ideal for taking photographs after testing

Everything from configuring the test conditions to implementhing the tests can be performed easily with a large touch-panel screen.

Highly rigid loading unit to accommodate ultra-high strength concrete
Downloads
Download the latest brochure.