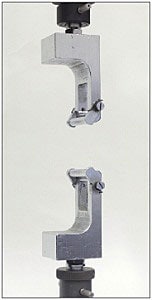 Features:
Maximum capacity of 1 kN (220 lbf)
Includes a self-clamping action
Enables quick sample mounting
Applicable for testing rubber, soft plastics, paper, and cloth


Relevant Materials:
Rubber, Soft Plastics, Paper, Cloth

Relevant Specimens:
Plates, Tapes
Henry Scott grips are useful for clamping plate and tape specimens of soft, flexible materials for tensile testing. Specimens are held by rollers on the upper and lower grips, which feature a self-clamping action. To minimize specimen slippage, the grip body opposite the roller, where the specimen contacts, is curved and features a parallel-grooved surface. During tensile testing, the self-clamping action applies increasing clamping force to the specimen as the overall force increases to help hold the specimen in place.
{"title":"Downloads","description":"Download the latest brochure.","source":"product","key":4574,"max":"30","filter_types":["brochures"],"link_title":"View other Downloads","link_url":"","pdf_links":[]}
{"title":"Applications","source":"product","key":4574,"max":"3","filter_types":["applications","application_note","posters"],"link_title":"Learn more","link_url":false,"config_list":[],"page_links":[]}
{"title":"Technical Documents","source":"product","key":4574,"max":"3","filter_types":["technical","technical_reports","white_papers","primers"],"link_title":"Learn more","link_url":"#tbaleAnchor_technical","config_list":[],"page_links":[]}
{"title":"Manuals","source":"product","key":4574,"max":"3","filter_types":["manuals"],"link_title":"Learn more","link_url":"#tbaleAnchor_manual","config_list":[],"page_links":[]}