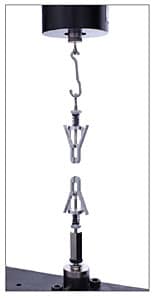 Features:
Suitable for testing yarn and plastics that require very low forces
Maximum capacity of 1 N (0.22 lbf)
Rubber-coated and leather-coated grip face options


Relevant Materials:
Yarn, Plastics

Relevant Specimens:
Fibers, Tapes
These very low force 1 N (0.22 lbf) clip grips are for tensile testing fibers, tapes, and other similar shaped specimens. They are designed for use with 50 N (11 lbf) and below load cells.

Each grip kit comes with upper and lower grips, an S-shaped joint, and two load cell connectors that screw directly into load cells. The load cell connectors supplied with the grips are compatible with AG-X plus series 50 N and below load cells and AGS-X series and EZ-X series 1 N and 2 N (0.44 lbf) load cells.

1 N clip grips are offered with two kinds of grip faces: leather-coated grip faces and rubber-coated grip faces. When rubber-coated grip faces are installed, the operational temperature range of these grips is reduced to between 0 and 60°C (32 and 140°F).
Downloads
Download the latest brochure.