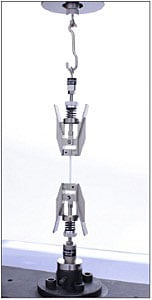 Features:
Suitable for testing yarn and plastics
Available with 10 N (2.2 lbf) and 50N (11 lbf) maximum capacities
Quick, simple clamping


Relevant Materials:
Yarn, Plastics

Relevant Specimens:
Fibers, Tapes
Clip grips are easy-to-use and applicable for low force tensile testing of materials such as yarn and plastics. Both 10 N (2.2 lbf) and 50 N (11 lbf) clip grips have flat metal grip faces.

The 10 N clip grip kit includes upper and lower grips and upper grip connections compatible with AG-X plus series 5 kN (1,100 lbf) and lower load cells. The lower grips couple directly to the lower joint of the universal tester. When using the 10 N clip grips with AGS-X series and EZ-X series load cells, additional load cell connections are required for the upper grip.

The 50 N clip grip set includes upper and lower grips with flat grip faces. The upper grip connects with load cells through conventional 50 N universal joints.
{"title":"Downloads","description":"Download the latest brochure.","source":"product","key":4581,"max":"30","filter_types":["brochures"],"link_title":"View other Downloads","link_url":"","pdf_links":[]}
{"title":"Applications","source":"product","key":4581,"max":"3","filter_types":["applications","application_note","posters"],"link_title":"Learn more","link_url":false,"config_list":[],"page_links":[]}
{"title":"Technical Documents","source":"product","key":4581,"max":"3","filter_types":["technical","technical_reports","white_papers","primers"],"link_title":"Learn more","link_url":"#tbaleAnchor_technical","config_list":[],"page_links":[]}
{"title":"Manuals","source":"product","key":4581,"max":"3","filter_types":["manuals"],"link_title":"Learn more","link_url":"#tbaleAnchor_manual","config_list":[],"page_links":[]}