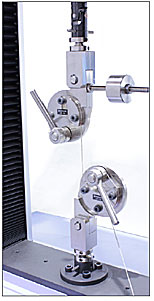 Features:
Suitable for metal and textile rope, string and wire testing
Applicable specimen diameter of 3 mm (0.12 in) or less
Maximum capacity of 5 kN (1,100 lbf)


Relevant Materials:
Metals, Textiles

Relevant Specimens:
Ropes, Strings, Wires
These grips offer a suitable method for tensile testing soft metal wires, ropes, and strings, all with a diameter of 3 mm (0.12 in) or less. The upper and lower grips include an articulated joint to maintain alignment of the specimen with the testing axis during testing.

It is difficult to define the grip-to-grip gauge length for these 5 kN grips for fine wire. Therefore, the use of an extensometer is strongly advised.
{"title":"Downloads","description":"Download the latest brochure.","source":"product","key":4600,"max":"30","filter_types":["brochures"],"link_title":"View other Downloads","link_url":"","pdf_links":[]}
{"title":"Applications","source":"product","key":4600,"max":"3","filter_types":["applications","application_note","posters"],"link_title":"Learn more","link_url":false,"config_list":[],"page_links":[]}
{"title":"Technical Documents","source":"product","key":4600,"max":"3","filter_types":["technical","technical_reports","white_papers","primers"],"link_title":"Learn more","link_url":"#tbaleAnchor_technical","config_list":[],"page_links":[]}
{"title":"Manuals","source":"product","key":4600,"max":"3","filter_types":["manuals"],"link_title":"Learn more","link_url":"#tbaleAnchor_manual","config_list":[],"page_links":[]}