50 kN Capstan Grips for Heavy Cloth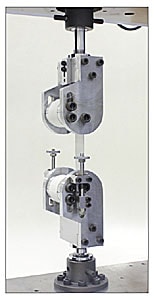 Features:
Applicable for heavy cloth tensile testing
Maximum capacity of 50 kN (11,000 lbf)
Applies a split drum and capstan design
Includes a self-tightening action during testing

Relevant Materials:
Heavy Cloth

Relevant Specimens:
Belts
These 50 kN (11,000 lbf) grips use a split drum and capstan to firmly hold specimens that have a tendency to slip, such as heavy cloth and belts, during tensile testing.

The grip faces within the split drum are grooved to enhance gripping of specimens and the upper grip spring counterweight ensures the axis of the specimen matches the centerline of the universal tester during testing. In addition, the split drum of the lower grip is held together by a spring, also improving specimen gripping.
{"title":"Downloads","description":"Download the latest brochure.","source":"product","key":4593,"max":"30","filter_types":["brochures"],"link_title":"View other Downloads","link_url":"","pdf_links":[]}
{"title":"Applications","source":"product","key":4593,"max":"3","filter_types":["applications","application_note","posters"],"link_title":"Learn more","link_url":false,"config_list":[],"page_links":[]}
{"title":"Technical Documents","source":"product","key":4593,"max":"3","filter_types":["technical","technical_reports","white_papers","primers"],"link_title":"Learn more","link_url":"#tbaleAnchor_technical","config_list":[],"page_links":[]}
{"title":"Manuals","source":"product","key":4593,"max":"3","filter_types":["manuals"],"link_title":"Learn more","link_url":"#tbaleAnchor_manual","config_list":[],"page_links":[]}