50 kN Capstan Grips for Rope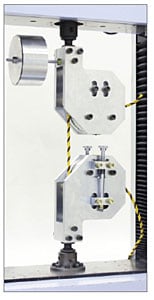 Features:
Grips especially designed for testing rope
A self-tightening action is applied during testing because of split drum and capstan
Maximum capacity of 50 kN (11,000 lbf)
A range of drum grip faces to accommodate specimens 8 to 28 mm (0.31 and 1.1 in) in diameter


Relevant Materials:
Yarn

Relevant Specimens:
Rope

Relevant Standards:
JIS L2701, JIS L2703, JIS L2704, JIS L2705
These 50 kN (11,000 lbf) capstan grips are designed specifically for testing the tensile properties of rope with a diameter between 8 and 28 mm (0.31 and 1.1 in). The upper and lower grips incorporate an easy-to-load split drum and the upper grip has a counterweight attached to maintain alignment of the grips with the axis of the universal tester during testing.

A grip set includes upper and lower grips with grooved faces inside the split drum to increase gripping of the specimen. Standard grip faces are for rope with a diameter of 8 to 12 mm (0.31 to 0.47 in). A range of additional drum grip faces is available to accommodate ropes with a diameter up to 28 mm (1.1 in).
{"title":"Downloads","description":"Download the latest brochure.","source":"product","key":4594,"max":"30","filter_types":["brochures"],"link_title":"View other Downloads","link_url":"","pdf_links":[]}
{"title":"Applications","source":"product","key":4594,"max":"3","filter_types":["applications","application_note","posters"],"link_title":"Learn more","link_url":false,"config_list":[],"page_links":[]}
{"title":"Technical Documents","source":"product","key":4594,"max":"3","filter_types":["technical","technical_reports","white_papers","primers"],"link_title":"Learn more","link_url":"#tbaleAnchor_technical","config_list":[],"page_links":[]}
{"title":"Manuals","source":"product","key":4594,"max":"3","filter_types":["manuals"],"link_title":"Learn more","link_url":"#tbaleAnchor_manual","config_list":[],"page_links":[]}