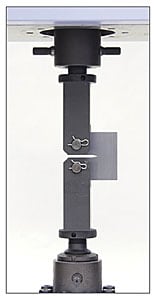 Features:
For plane-strain fracture toughness testing of metals according to ASTM E399
50 kN (11,000 lbf) maximum capacity
Optional crack-opening displacement gauge


Relevant Materials:
Metals

Relevant Specimens:
Plates

Relevant Standards:
ASTM E399
These compact tension grips are for plane-strain fracture toughness tests of metallic materials. Fracture toughness testing involves applying static loads to a notched sample to investigate brittle crack propagation and fracture conditions.

Compact tension grip sets include upper and lower grips and two 12 mm (0.47 in) diameter pins.
The grips have a maximum capacity of 50 kN (11,000 lbf) but are available with different size grip fittings to attach to different capacity load cells. In addition, a crack-opening displacement gauge is available to support the evaluation of crack propagation.
{"title":"Downloads","description":"Download the latest brochure.","source":"product","key":4601,"max":"30","filter_types":["brochures"],"link_title":"View other Downloads","link_url":"","pdf_links":[]}
{"title":"Applications","source":"product","key":4601,"max":"3","filter_types":["applications","application_note","posters"],"link_title":"Learn more","link_url":false,"config_list":[],"page_links":[]}
{"title":"Technical Documents","source":"product","key":4601,"max":"3","filter_types":["technical","technical_reports","white_papers","primers"],"link_title":"Learn more","link_url":"#tbaleAnchor_technical","config_list":[],"page_links":[]}
{"title":"Manuals","source":"product","key":4601,"max":"3","filter_types":["manuals"],"link_title":"Learn more","link_url":"#tbaleAnchor_manual","config_list":[],"page_links":[]}