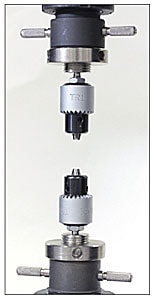 Features:
Specifically for testing metal plates, rods and wires and electronic components
Two types of grips: drill chuck grips for rods and drill chuck grips for flat specimens
Models with maximum capacity up to 100 kN (22,00 lbf)
Simple specimen mounting procedure


Relevant Materials:
Metals, Electronic Components

Relevant Specimens:
Plates, Rods, Wires
Metal rods, wires, and plates and electronic components can be tensile tested using drill chuck grips. Electronic components are tested by placing the metal legs of the components in the grips, allowing different shaped components to be tested with the same set of grips.

Two different drill chuck grip sets, one for rods and the other for flat specimens, are available. Grip sets include upper and lower grips and a chuck key. Within each category of drill chuck grips, different capacity grips are available.
{"title":"Downloads","description":"Download the latest brochure.","source":"product","key":4598,"max":"30","filter_types":["brochures"],"link_title":"View other Downloads","link_url":"","pdf_links":[]}
{"title":"Applications","source":"product","key":4598,"max":"3","filter_types":["applications","application_note","posters"],"link_title":"Learn more","link_url":false,"config_list":[],"page_links":[]}
{"title":"Technical Documents","source":"product","key":4598,"max":"3","filter_types":["technical","technical_reports","white_papers","primers"],"link_title":"Learn more","link_url":"#tbaleAnchor_technical","config_list":[],"page_links":[]}
{"title":"Manuals","source":"product","key":4598,"max":"3","filter_types":["manuals"],"link_title":"Learn more","link_url":"#tbaleAnchor_manual","config_list":[],"page_links":[]}