Grips for Plastic Molding Materials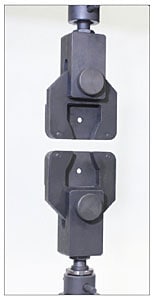 Features:
Used to test specimens with dimensions specified in JIS K6911 and JIS K7113 No 3
Maximum capacity of 20 kN (4,400 lbf)
Advantages include easy specimen exchange and a self-aligning design


Relevant Materials:
Plastics

Relevant Specimens:
Bellow drawing

Relevant Standards:
JIS K6911
These plastic molding material grips are used when tensile testing plastics with dimensions specified in JIS K6911, plastic molding materials, and JIS K7113 No 3 specimens, as well as those shown in the diagram below.
(Include diagram with specimen dimensions)

An advantage of the design of these grips is easy and quick specimen exchange. Also, the grips include a self-aligning component to make sure the grips align along the tensile axis. Grips for plastic molding materials grip sets include upper and lower grips and grip inserts, otherwise known as shims.
{"title":"Downloads","description":"Download the latest brochure.","source":"product","key":4583,"max":"30","filter_types":["brochures"],"link_title":"View other Downloads","link_url":"","pdf_links":[]}
{"title":"Applications","source":"product","key":4583,"max":"3","filter_types":["applications","application_note","posters"],"link_title":"Learn more","link_url":false,"config_list":[],"page_links":[]}
{"title":"Technical Documents","source":"product","key":4583,"max":"3","filter_types":["technical","technical_reports","white_papers","primers"],"link_title":"Learn more","link_url":"#tbaleAnchor_technical","config_list":[],"page_links":[]}
{"title":"Manuals","source":"product","key":4583,"max":"3","filter_types":["manuals"],"link_title":"Learn more","link_url":"#tbaleAnchor_manual","config_list":[],"page_links":[]}