MB150/MB150S Generic Magnetometer
The MB150 generic Magnetometer is a fluxgate magnetic sensor that measures micro-level magnetic fields with high sensitivity, and is available as the MB150 integrated model and MB150S discrete model with integrated or separate magnetism detector unit and control unit.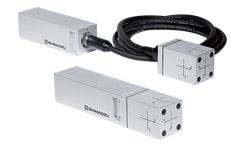 Applications
Geomagnetic observation
Measurement of magnetic field produced by magnetic materials (iron, nickel, etc.)
Measurement of magnetic field produced by electrical current
Features
Simultaneously measures magnetic field in 3 perpendicular directions.
Wide measurement range of ±60,000 nT
High resolution of 0.3 nT
Digital output of measured values (TIA-422)
Included software allows for easy display of measurements as waveforms, saving of data, and creation of csv files.
Small and lightweight design*1 that allows for easy transport and use at any measurement site*1 Compared to our products.
Shimadzu puts every single product through performance tests and only delivers safe and reliable products to customers that have met the performance criteria.
Manufactured in Japan, with a comprehensive after-sales service

Specification/Configuration
| | |
| --- | --- |
| Measurement axis/axes | 3 perpendicular axes |
| Measurement range | ±60,000 nT on each axis |
| Measurement accuracy | ±2 % (along full measurement scale) |
| Intrinsic noise | ≤0.3 nTp-p (at DC to 1 Hz, for 2 minutes) |
| Output | TIA-422 |
| Operational temperature | 0 to +40 °C |
| Storage temperature | -20 to +60 °C |
| Power supply | 100 V AC, 50/60 Hz |
| Accessories | Cable, repeater, AC adapter, RS422-USB converter, storage case, instruction manual, magnetic waveform display software*2 |

*2 Magnetic waveform display software is compatible with Windows 7 and Windows 8.