In order to protect the global environment, including the atmosphere, water, and soil, the plants that generate these substances must monitor their processes. Shimadzu Corporation provides equipment that continuously monitors the sources of emissions and manufacturing processes.
Water monitoring
The manufacturing process can be controlled by continuously measuring waste water and water in the process. Regulations may also require continuous measurement of wastewater. We provide a continuous water quality analyzer (online monitor) that can be used for such purposes.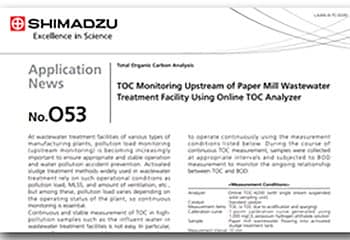 At wastewater treatment facilities of various types of manufacturing plants, pollution load monitoring (upstream monitoring) is becoming increasingly important to ensure appropriate and stable operation and water pollution accident prevention. Activated sludge treatment methods widely used in wastewater treatment rely on such operational conditions as pollution load, MLSS, and amount of ventilation, etc., but among these, pollution load varies depending on the operating status of the plant, so continuous monitoring is essential. Continuous and stable measurement of TOC in high-pollution samples such as the influent water in wastewater treatment facilities is not easy. In particular, paper mill wastewater, in addition to containing large amounts of pulp residue, provides an environment that facilitates microorganism proliferation. This leads to such problems as obstructed flow lines and the formation of biofilms at surfaces that are exposed to direct contact with these organisms, such as at water sampling points.
Here, using the online TOC-4200, we introduce an example of continuous measurement of paper mill wastewater having such characteristics.
Gas monitoring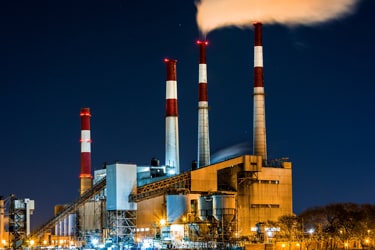 At power plants, chemical plants and so on, exhaust gas emitted from fixed sources is continuously monitored for the purpose of air pollution prevention and process control. Continuous gas analyzers (online monitor) suitable for these applications are introduced.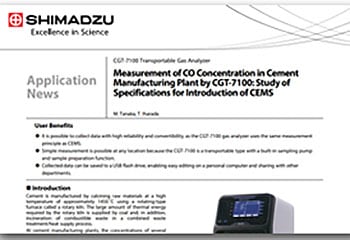 Cement is manufactured by calcining raw materials at a high temperature of approximately 1450 ˚C using a rotating-type furnace called a rotary kiln. The large amount of thermal energy required by the rotary kiln is supplied by coal and, in addition, incineration of combustible waste in a combined waste treatment/heat supply process.
At cement manufacturing plants, the concentrations of several types of gas are monitored at several points from the viewpoints of operation control and prevention of air pollution. Among those gases, the concentrations of CO and O2 are indexes that directly reflect the condition of fuel combustion, and thus are essential monitoring targets for close operation control aiming at high efficiency and low environmental impact. In particular, since CO is an index that reacts quickly to incomplete combustion, fast and accurate measurement is required.
Assuming installation of a CEMS for this purpose, this article introduces an example of measurement of the CO concentration in a cement plant using the CGT-7100 transportable gas analyzer in order to study the specification of the measurement range before installation of the CEMS.