Nonylphenol in River Water
Nonylphenol is reacted with ethylene oxide to create nonylphenol ethoxylates, nonionic surfactants used in synthetic detergents.
Nonylphenol in the environment causes problems as an exogenous endocrine disruptor. In recent years, it is said to have appeared in the environment due to the degradation of these surfactants by microorganisms and to elution from plastic products.
Because they generally have large molecules and are difficult to vaporize, nonylphenol ethoxylates are analyzed by HPLC.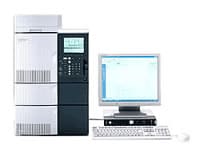 This separation/analysis instrument is widely used for the quantitative analysis of chemical substances. It is used with a combination of detector and mobile phase that suits the analysis target components.