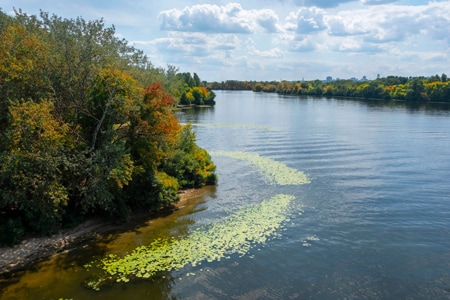 Recently, in lakes and inner bays, the occurrence of eutrophication is rapidly increasing due to the inflow of domestic and industrial wastewater, resulting in harmful algal blooms. Algae blooms release poisonous algal toxins when decaying or decomposing. Regulations have been developed worldwide to limit their impact on the environment and human health.
Application News
LC-MS
Euglena gracilis are one type of euglenids which are a group of eukaryotic unicellular algae; they have chloroplasts and can proliferate photoautotrophically and heterotrophically. As wax esters formed in Euglena gracilis under low oxygen conditions are considered as excellent raw materials for biofuel production, Euglena gracilis have been gaining more attention in recent years.
This article introduces an example analysis of galactolipids in Euglena gracilis powder using a high-performance liquid chromatograph and triple quadrupole mass spectrometer system, as part of analyzing lipids of Euglena gracilis.
TOC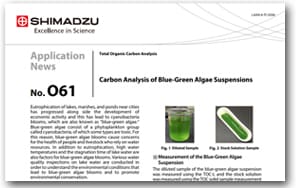 Eutrophication of lakes, marshes, and ponds near cities has progressed alongside the development of economic activity, leading to cyanobacteria blooms, which are also known as "blue-green algae". Blue-green algae consist of a phytoplankton group called cyanobacteria, of which some types are toxic. For this reason, blue-green algae blooms cause concerns for the health of people and livestock who rely on those water resources. This time, utilizing the combustion catalytic oxidation method of the Shimadzu Total organic Carbon Analyzer TOC-L, we measured the concentration of carbon components in a suspension sample containing blue-green algae collected from lake water.
Related Products
The LCMS-8060 features an optimized ion guide and new technologies incorporated in the ion transport optical system.

The TOC-L series of TOC analyzers adopts the 680°C combustion catalytic oxidation method, which was developed by Shimadzu and is now used worldwide.