Inorganic Ions and Metals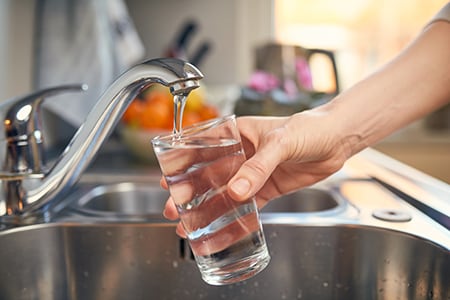 The normal daily water consumption of adults is almost all of which consist of drinking water such as tap water or mineral water. Each country has regulations that require testing of the safety and condition of drinking water.
For inorganic ions, chlorate is derived from impurities in sodium hypochlorite,which is used as a disinfectant in the process of waterpurification. Bromate in tap water is generated by advanced water treatment processes.
Chlorate and bromate, which may have an adverse effect on human health, have been added to the water quality standards of Japan for tap water. In Japan, the analytical method has been designated in "Method Determined by the Minister of Health, Labour and Welfare on the Basis of the Ordinance Provisions Relating to Water Quality Standards". In USA, ASTM D6919-03 specifies an ion chromatographic method for analyzing the six cations in drinking water and wastewater.
For metals, items tested for include high concentration elements whitch are present at 10 mg/L or higher, and trace elements whitch are present at 10 μg/L or lower. Consequently, analytical instruments are required to perform a wide range of measurements with high sensitivity, where it is preferred the items to be tested are done so simultaneously. ICPMS could be used to analyze tap water and mineral water.
Application News
LCMS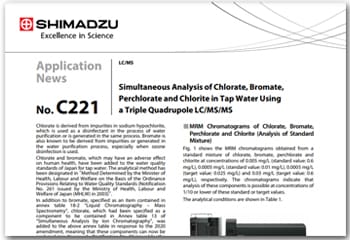 Chlorate is derived from impurities in sodium hypochlorite, which is used as a disinfectant in the process of water purification or is generated in the same process. Bromate is also known to be derived from impurities or generated in the water purification process, especially when ozone disinfection is used.
Using LCMS™-8060, this article introduces an example of simultaneous analysis of four components, consisting of perchlorate and chlorite, in addition to chlorate and bromate for which the water quality control standards are already established.
Ion-Chromatograph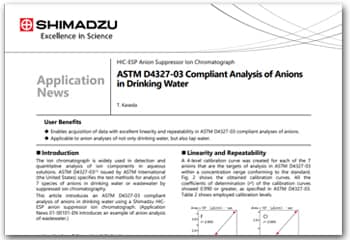 The ion chromatograph is widely used in detection and quantitative analysis of ion components in aqueous solutions. ASTM D4327-03(1) issued by ASTM International (the United States) specifies the test methods for analysis of 7 species of anions in drinking water or wastewater by suppressed ion chromatography. This article introduces an ASTM D4327-03 compliant analysis of anions in drinking water using a Shimadzu HICESP anion suppressor ion chromatograph.
ICP-MS
In this application work, trace metal and mineral contents in drinking water samples were simultaneously determined by inductively coupled plasma mass spectrometry (ICP-MS).
The analysis results of water samples from different common sources were compared against the US EPA regulations. The elemental concentrations were either well below the regulation limits or not detected. The ICP-MS method developed applying helium collision cell technology was verified and it provides a fast, sensitive, and reliable method for water quality and water safety evaluation.
Related Products
The LCMS-8060 features an optimized ion guide and new technologies incorporated in the ion transport optical system.

The HIC-ESP is a new anion suppressor ion chromatograph with built-in electrodialytic suppressor, boasting the same low carryover and excellent injection precision characteristic of Shimadzu HPLCs to bring you highly-reliable results.

With its newly developed collision cell and optimized internal structure, the ICPMS-2030 provides superior sensitivity.