Smart Metabolites Database™ Ver.2
Smart Metabolites Database for GC-MS(/MS) Analysis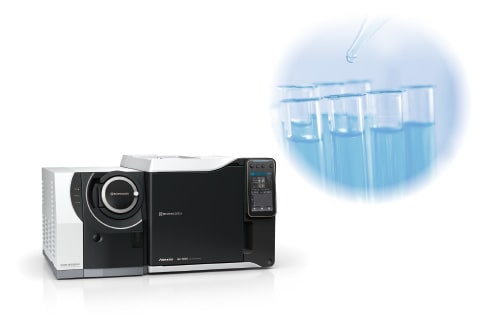 The Smart Metabolites Database™ is a GC-MS(/MS) database that contains the information needed for analyzing metabolic compounds. Ver. 2 contains an additional number of registered compounds, focusing on plant secondary metabolites, such as catechins and chlorogenic acids, that are garnering interest as functional compounds, for more expansive analysis of food samples. In total, the Smart Metabolites Database Ver. 2 enables simultaneous analysis of more than 600 compounds, making it a powerful tool for marker discovery in metabolomics analysis.
The database also offers dedicated methods for fatty acids and sugars and provides total support for metabolic compound analysis.


Smart Metabolites Database, GCMS-TQ, LabSolutions Insight, AOC, GCMSsolution, and LabSolutions are trademarks of Shimadzu Corporation or its affiliated companies in Japan and/or other countries. Excel and Microsoft are either registered trademarks or trademarks of Microsoft Corp. in the United States and/or other countries.
{"title":"Downloads","description":"Download the latest brochure.","source":"product","key":3291,"max":"30","filter_types":["brochures"],"link_title":"View other Downloads","link_url":"","pdf_links":[]}
{"title":"Applications","source":"product","key":3291,"max":"3","filter_types":["applications","application_note","posters"],"link_title":"Learn more","link_url":false,"config_list":[{"document_id":10091,"config_id":271}],"page_links":[]}
| Description | Q'ty |
| --- | --- |
| GCMS-TQ8040 1 | 1 |
| PC Set for GCMS-TQ Series D586/M GCMS Insight 1 | 1 |
| NIST Mass Spectral Database Library 2020 Edition 1 | 1 |
| AOC-20I,GC-2010 1 | 1 |
| AOC-20s GC-2010/GC-2014/GC-2025/GCMS 1 | 1 |
| Mount Plate Assy, for AOC-20s 1 | 1 |
| Utilities Kit, GCMS 1 | 1 |
| Hand Tool Kit, GCMS 1 | 1 |
| Consumable Parts Kit, GCMS 1 | 1 |
| BOX,EI+(HEAT TREATMENT) 1 REPELLER ASSY(+) 1 | 1 |
| Carrier Gas Piping, w/fittings, 5m 2 | 2 |
| BPX-5 (30 m x 0.25 mm, 0.25μm) 1 | 1 |
| Carrier Gas Piping, w/fittings, 5m 1 | 1 |
| Sample,OFN 100ppt 1 | 1 |
| GC/MS TEST SAMPLE 1 | 1 |
| Smart Metabolites Database 1 | 1 |
{"title":"Technical Documents","source":"product","key":3291,"max":"3","filter_types":["technical","technical_reports","white_papers","primers"],"link_title":"Learn more","link_url":"#tbaleAnchor_technical","config_list":[],"page_links":[]}
{"title":"Manuals","source":"product","key":3291,"max":"3","filter_types":["manuals"],"link_title":"Learn more","link_url":"#tbaleAnchor_manual","config_list":[],"page_links":[]}