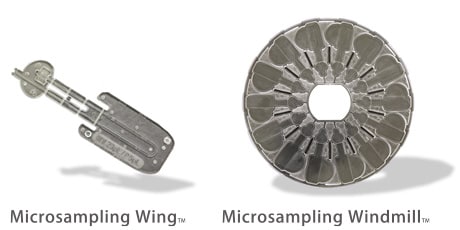 Microsampling Device "MSW2™" eliminates the need for weighing work Microsampling Wing™ × Microsampling Windmill™
The MSW2 series offer tools for easily fractionating a predetermined amount of plasma from a small amount of blood, for nonclinical animal experiments. Also, since the entire process, from sampling to fractionation of a predetermined amount of plasma, can be completed with devices only, so human errors are minimized.
Related information

Use case was introduced at the luncheon seminar of CPSA.
CPSA: Clinical&Pharmaceutical Solutions through Analysis; October, 2017, USA

 
MSW2, Udck, Microsampling Wing and Microsampling Windmill are trademarks of Shimadzu Corporation.
{"title":"Downloads","description":"Download the latest brochure.","source":"product","key":4537,"max":"30","filter_types":["brochures"],"link_title":"View other Downloads","link_url":"","pdf_links":[]}
{"title":"Applications","source":"product","key":4537,"max":"3","filter_types":["applications","application_note","posters"],"link_title":"Learn more","link_url":false,"config_list":[],"page_links":[]}
{"title":"Technical Documents","source":"product","key":4537,"max":"3","filter_types":["technical","technical_reports","white_papers","primers"],"link_title":"Learn more","link_url":"#tbaleAnchor_technical","config_list":[],"page_links":[]}
{"title":"Manuals","source":"product","key":4537,"max":"3","filter_types":["manuals"],"link_title":"Learn more","link_url":"#tbaleAnchor_manual","config_list":[],"page_links":[]}