Shimadzu LC Driver for Waters Empower - Features
Seamless control of Shimadzu LC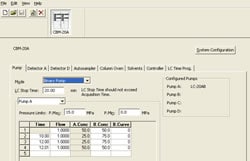 Shimadzu LC control parameters are set through the Shimadzu instrument method editor embedded in the Empower software. These parameters are stored and handled as standard Empower method files so that the instruments are directly controlled from Empower.
Creation and modification of instrument methods
Report output of instrument methods
Direct control
Solvent Blening
Auto purging
System check
Confirmation screen of instrument configuration
Digital data acquisition for enhanced reliability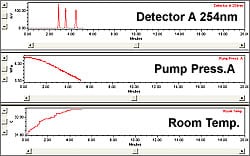 In addition to seamless system control, the detector signal is digitally transmitted to the data system. This eliminates the necessity to add an A/D converter for analogue data acquisition, making system validation easier and more robust. Photodiode array detector 3D data analysis and spectral processing are also available through Empower. Furthermore, system status information, such as pump pressures and column oven temperature, may be monitored and recorded along with chromatograms, making your analytical data even more reliable.
Regulatory compliance support
Full system control, including autosampler control, uses Empower sample set methods, and data processing is integrated with Empower software so that the audit trail functions of Empower software are fully utilized. This gives you full confidence in the compliance of the system to regulations such as GLP/GMP and US FDA 21 CFR Part 11. Waters™ and Empower™ are registered trademarks of Waters in the USA and other countries
Shimadzu LC systems compatible with Empower
It is now possible to control the Shimadzu LC systems including Nexera and i-Series from Waters' Empower chromatography data system. Experience the advanced features of the Nexera series and LC-2050/LC-2060 such as mobile phase monitoring, dual injection and automated pretreatment programs.
Prevent mistakes caused by running out of mobile phase
Using the MPM-40 mobile phase monitor*, it is possible to check levels of mobile phase, autosampler rinse solution etc. in real time (up to 12 bottles). Remaining volumes can be monitored from the Empower control panel or from a smart device. You can receive advance notifications to your PC or smart device if the mobile phase is likely to become depleted, preventing costly mistakes in analysis.
*optional
Analyze one sample in two flow paths simultaneously (dual injection)
Using the dual injection function* of the SIL-40 autosampler series, it is possible to carry out two separate simultaneous analyses on one system, saving space and time. Flow paths can be constructed for a variety of analyses – amino acids, organic acids, sugars, vitamins, positive or negative ions, etc.
*optional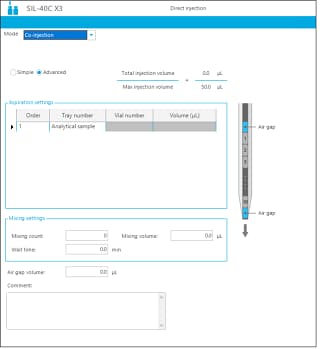 Automated pretreatment programs save labor and increase reliability
A range of pretreatment programs for the SIL-40 series includes functions for dilution, addition, co-injection, etc. Automation prevents human error and increases repeatability as well as improving overall workflow efficiency.
Downloads
Download the latest brochure.