Testing Machine Retrofits
Retrofit Your Testing Machines with the Very Latest Controller!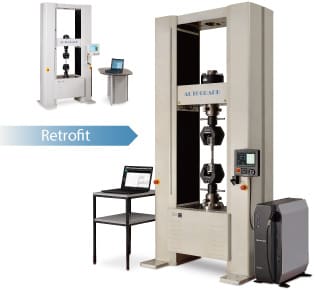 You can retrofit outdated testing machines by replacing the controller. Providing compatibility with the latest standards, enhancing safety and adding on low-cost, convenient functions will resurrect your testing machine.
You can process data or output reports on up-to-date PCs, and expand the scope of application of stored measurement data.
Advantages of a Retrofit
Testing and analysis of data compatible with the latest standards are possible.
Safety-enhancing features are added on.
The scope of application of measurement data is expanded since the testing machine can be used on a Windows PC.
General Precautions When Buying Retrofit Products
The original testing machine stays as it is, so you cannot expect any improvements in performance.
Please check with use beforehand about the product already installed. This will sometimes require a preliminary visit by us.
Retrofits sometimes do not meet customers' expectations depending on the condition of the already installed product such as added on options and modifications.
During a retrofit, nonconformities are sometimes found in parts other than those covered by the retrofit. Additional fees will be charged in this case.
* Appearance and specifications are subject to change without notice.