Hydraulic Universal Testing Machines
The functions and performance of outdated testing machines can be improved by changing the controller.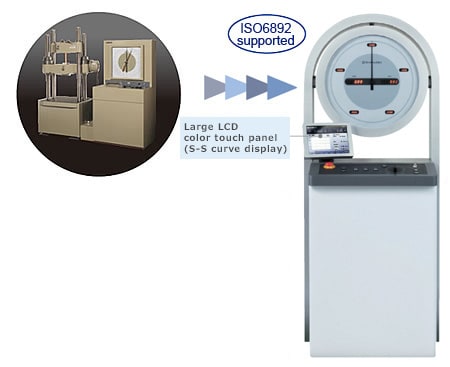 Retrofit Applicable Models
Shimadzu Hydraulic Universal Testing Machines
RH/REH, UMH/UEH, UDH/UH-B, UMH-F/UEH-F, UDH-F/UH-FB, UH-A/UH-C, UH-FA/UH-FC
Other manufacturers' testing machines also can be retrofitted. Contact your Shimadzu representative for details.
With Large LCD Display
S-S curves are displayed on the LCD display in real time.
Measurement results can be checked at a glance.
Range Setting No Longer Required for Test Force and Displacement Measurement
Measurement ranges no longer need to be checked before testing, thus improving test efficiency.
Automatic Control (Stroke, Test Force, Strain)
Additional various control testing can be conducted automatically with manual control functions left intact. This makes standard-compliant testing simpler to perform.
Windows-compatible Software Also Can Be Used
Windows software that can run even on laptop computers enables control and data processing to be performed. This presents possible solutions such as testing in laboratories and organization of test data in a separate room.
General Precautions When Buying Retrofit Products
The original testing machine stays as it is, so you cannot expect any improvements in performance.
Please check with use beforehand about the product already installed. This will sometimes require a preliminary visit by us.
Retrofits sometimes do not meet customers' expectations depending on the condition of the already installed product such as added on options and modifications.
During a retrofit, nonconformities are sometimes found in parts other than those covered by the retrofit. Additional fees will be charged in this case.
Also note that when retrofitting ultra micro hardness testers, the tester must be taken back to the factory for modification.
* Appearance and specifications are subject to change without notice.