Hyper Vision HPV-X2 - Features
High-Speed Video Camera
Recording speed of 10 million frames/second, the highest in its class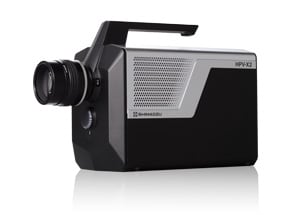 Larger, clearer, high-sensitivity recording
Equipped with synchronized recording function, and high-level analytical capabilities that accommodate a variety of software programs
Software
Windows Compatible Control Software
Windows compatible control software is provided. Just connect the camera and PC using a LAN cable and configure the simple settings to start recording at high speeds immediately.

In addition to a special format, the recorded images can be saved in common formats such as AVI, BMP, JPEG, and TIFF.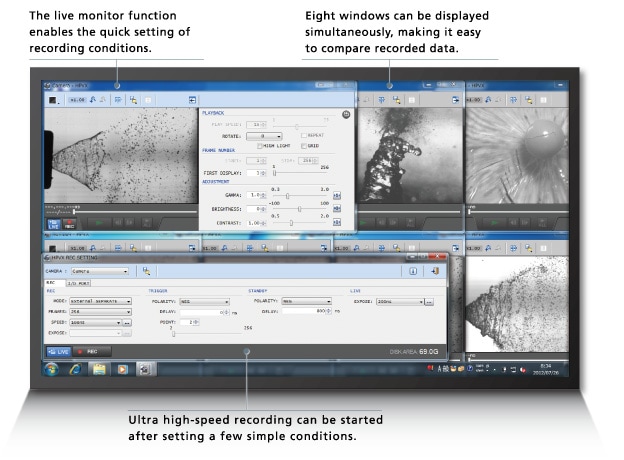 The Camera Can Be Used in Combination with Commercially Available Image Analysis Software
High-speed phenomena can be subjected to image analysis and numerical analysis by saving the recorded images in a common format, and then loading them into commercially available image analysis software.
In particular, to obtain strain distributions for samples during material tests, commercially available strain distribution analysis software can be used, which operates on the principle of digital image correlation (DIC).
3-D strain analysis of CFRP thin plate
The deformation behavior of a CFRP thin plate colliding with a steel ball emitted by a gas gun at supersonic speed h as been captured by two high-speed cameras. By using 3D-DIC software, it is possible to analyze a temporal change of the strain distribution in the direction perpendicular to the thin plate.
(Provided by the Tanabe Laboratory at Nagoya University)
FTCMOS2 Advanced, Next-Generation Burst Image Sensor
Burst Method Enables Ultra High-Speed Recording
For typical high-speed video cameras, image storage memories are located outside of the image sensor. Because the number of signal output taps are overwhelmingly small compared to the number of pixels, the transfer of the video signals from the pixels to the memories must be a sequentially serial process; therefore, ultra high-speed recording of more than 1 million frames per second could not be realized. In contrast, Shimadzu's burst image sensor has the same number of built-in memories as number of frames recorded. Furthermore, a pixel and memories are connected by wire in a one-to-one manner in order to completely parallel transfer the video signal from the pixels to the memories. This makes it possible to realize ultra high-speed recording at 10 million frames per second. In addition, since it not limited to the number of signal output taps as with conventional serial transfer system, high-resolution recording at ultra high speed is available.
Next-Generation Burst Image Sensor Based on CMOS Technology
Conventional burst image sensors are based on CCD technology, in which the memory is positioned adjacent to the pixels. As a result, there are problems with decreased image quality due to signal leakage from pixels to memory. Accordingly, the Shimadzu FTCMOS burst image sensor adopts CMOS technology, in which the pixels and memory are spatially separated to achieve high image quality with no signal leaks.
In addition, with the FTCMOS2, light sensitivity is six times better than with FTCMOS, thanks to the adoption of a new CMOS process.

Note: FTCMOS and FTCMOS2 sensors were developed through collaborative research with Prof. Shigetoshi Sugawa of Tohoku University. Patents: 04931160, 04844853, 04844854
Improved Signal-to-Noise Ratio Thanks to Six Times the Conventional Sensitivity
The light sensitivity of the HPV-X2 has been improved six-fold compared to our conventional products by adopting the FTCMOS2 image sensor. The resulting improvement in signal-to-noise ratio yields clearer images compared to conventional products, if the optical systems are the same.
FP Mode and HP Mode
The FTCMOS2 sensor has 100,000 pixels and a 12.8 million bit memory.
In FP mode, each 128 bit memory element is assigned to 100,000 pixels.
In HP mode, each 256 bit memory element is assigned to 50,000 pixels.
The maximum recording speed in HP mode is 10 million frames/second, and the number of frames recorded is 256, twice the number in FP mode. However the resolution is 1/2, at 50,000 pixels.*
| | HP (Half Pixel) Mode | FP (Full Pixel) Mode |
| --- | --- | --- |
| Max. Recording Speed | 10 million frames/second | 5 million frames/second |
| Resolution | 50,000 pixels | 100,000 pixels |
| Number of Frames Recorded | 256 | 128 |
Downloads
Download the latest brochure.