Tensile Testing System with Thermostatic Chamber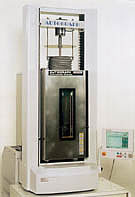 This thermostatic chamber is ideal for long-stroke tensile testing of large-elongation materials such as rubber and plastic in controlled temperature environments.
Features
Extension bellows enable long-stroke testing in the chamber without the need for the thermostatic chamber extension.
Eff. tensile stroke Max. 370 mm
Grip space 0 to 450 mm (example of 250 mm extension type AG-5kNI 5 kN screw type chuck)
Testing can be performed in a wide temperature range.
Temperature range: -60 °C to +250 °C (TCR2L type)
70 °C to 250 °C (TCL-NL type)
250 mm extension type applicable on Autograph
In the case of conventional 250 mm extension type thermostatic chambers, the 500 mm extension type is needed on the Autograph main unit. However, with this thermostatic chamber, the 250 mm extension type is sufficient on the Autograph to configure a reasonably priced long-stroke tensile testing system.
Accommodates large elongation, and a long range with uniform temperature can be ensured.
±1.5 °C at 300 mm in height direction
Integration of the temperature controller with the thermostatic chamber body and downsizing of the stand means that less installation space is required.
Downloads
Download the latest brochure.
Applications
| Applications | Date Creation Date |
| --- | --- |
| | 2013-06-04 |
| | 2013-06-04 |