Fourier Transform Infrared Spectrophotometer
Space-Efficient with High Expandability
Even Fits in Small Spaces
There is a growing need for systems that can fit in tight spaces, such as for lining up a row of units used for student experiments or to enable measurements in an environment with many different samples and experimental tools laid out for use in chemical synthesis. For sites with only a narrow space available, samples can also be measured with the unit positioned vertically (see diagram below). The start switch is accessible and the humidity indicator is visible from both directions. The prism and FTIR main unit are the same in height. Therefore, samples can be placed directly on the ATR attachment, which is integrated with the sample compartment. That can eliminate the trouble of having to cut large samples.
Large Sample Compartment in a Small Body
In spite of a body size smaller than a piece of A3 paper (297 x 420 mm), the sample compartment width is the same as on higher-end models. This makes it compatible with many Shimadzu and 3rd party accessories, allowing it to be used for a wide variety of applications.
Dedicated IR Pilot Program Ensures Immediate and Easy System Operation
IR Pilot
IR Pilot offers a total of 23 application programs as standard, making it easy for operators with minimal FTIR experience to analyze samples by simply selecting the analysis purpose and accessory. There is no need to set parameters. It enables the measurement of multiple samples with only one click.
Identification Test Program
This program makes pass/fail judgments for test samples based on verification methods described in Pharmacopoeia and standards specified in each country, such as "Infrared Spectrophotometry" in the Japanese Pharmacopoeia and Japan's Specifications and Standards for Food Additives. In addition to identification tests for pharmaceutical and food product identification tests, the program can also be used for acceptance and pre-shipment inspections. The program calculates the difference between peak wavenumbers from standard and test samples and the difference between the peak intensity ratios and then prints a report of pass/fail judgment results. It includes spectra for the 57 substances specified in Japan's Specifications and Standards for Food Additives.
Contaminant Analysis Program
The contaminant analysis program identifies measured contaminants using Shimadzu's proprietary identification algorithm (Japanese Patent No. 5205918) in combination with a spectral library containing more than 550 spectra for substances commonly detected as contaminants. After data analysis, it automatically makes a pass/fail judgment and creates a report. Even if the contaminant is a mixture, it searches for major and minor components and displays their ranks. Since the number of components in the mixture does not need to be specified, even operators with minimal infrared analysis experience can easily analyze samples.
Shown here is an analysis of a contaminant attached to a tablet surface using the Contaminant Analysis Program. The results showed Polytetrafluoroethylene (PTFE) was the major component, and sugar and calcium carbonate were the accessory components. Since the two accessory components are often used as tablet components, it is estimated that the components were scraped up at the same time when scraping the contaminant.
High Reliability Ensures the System Can Be Introduced with Confidence
Technology Inherited from Higher-End Models
High stability and throughput
Features dynamic alignment at 5000 times per second and a high-brightness ceramic light source)
High sensitivity comparable to general-purpose models (IRSpirit-T)
DLATGS detector with temperature control function
High Reliability Due to Humidity-Resistant Design
The robust optics are designed to ensure the system can be used reliably even under harsh temperature and humidity conditions.
Optics sealed in an aluminum die cast body
Status monitor function features electrical and paper-based indicators.
Beam splitter includes a humidity-resistant coating.
Select from a KBr window (to 70% RH) or a KBS-5 window (to 90% RH) which both include a humidity-resistant coating.*
Optional electric dehumidifier can be installed.
*No condensation
Instrument Status Monitoring
Instrument status is automatically verified during start-up and results are saved in a report. This feature is especially convenient for instrument management. Pharmacopoeia-compliant programs convenient for routine inspections are also included.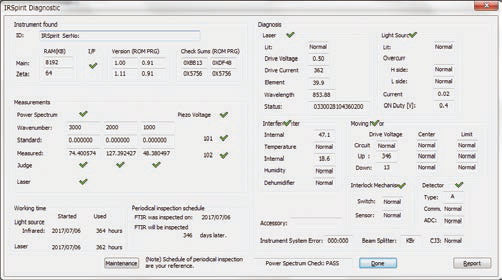 Self-diagnostic function
An automatic self-diagnostic function inspects the signal system and optics during instrument initialization. It obtains a variety of information and automatically outputs the results in one file, making instrument management easy. The instrument status history can also be confirmed.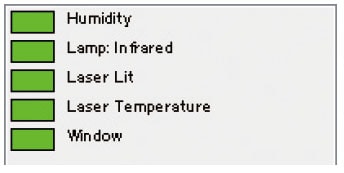 Status monitor function
This function continuously monitors and manages information about the light source, semiconductor laser, humidity inside the instrument, the window plate connection (interlock), and accessories.
Downloads
Download the latest brochure.