SolidSpec-3700i/3700iDUV - Applications
UV-VIS-NIR Spectrophotometer
{"hasMore":true,"more":{"id":"tbaleAnchor_more","label":"More"},"anchors":[{"id":"tbaleAnchor_applications","label":"Applications"},{"id":"tbaleAnchor_technical","label":"Technical Documents"},{"id":"tbaleAnchor_manual","label":"Manuals"}]}
{"title":"Applications","columnTitle":"Applications","source":"product","key":3333,"filter_types":["applications","application_note","posters"],"config_list":[],"anchor":"tbaleAnchor_applications"}
{"title":"Technical Documents","columnTitle":"Technical Documents","source":"product","key":3333,"filter_types":["technical","technical_reports","white_papers","primers"],"config_list":[],"anchor":"tbaleAnchor_technical"}
{"title":"Manuals","columnTitle":"Manuals","source":"product","key":3333,"filter_types":["manuals"],"config_list":[],"anchor":"tbaleAnchor_manual"}
Comparison of 2-Detector and 3-Detector Models
An InGaAs detector is newly used, in addition to the photomultiplier tube (PMT) and cooled PbS detectors.
That results in less noise than the two-detector (PMT and PbS) model, especially in the region detected by the InGaAs detector (900 to 1600 nm).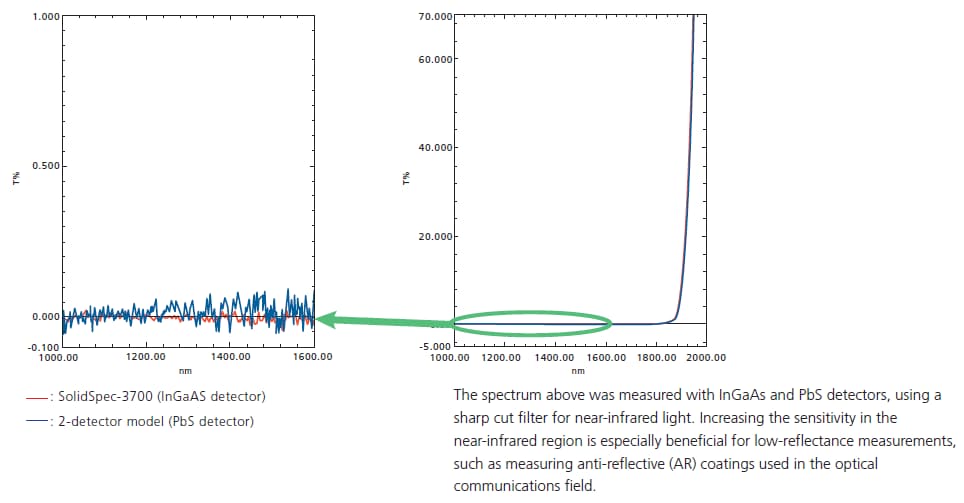 High Accuracy Measurement with Minimized Detector Switchover Noise and Bump
Noise and bump caused by detector switchover are minimized to assure accurate measurement.
Integrating Sphere for Deep Ultraviolet Measurement
Spectra with low noise can be obtained even for wavelengths near 190 nm, which are difficult to measure accurately using a regular spectrophotometer. The ability to measure spectra in this wavelength range is especially helpful when measuring semiconductor materials used for ArF excimer lasers.
The 100% baseline spectra measured on the SolidSpec-3700i DUV with an integrating sphere for the deep ultraviolet measurement and the SolidSpec-3700i with a normal integrating sphere are shown in the left figure.
Application for Deep Ultraviolet Region
In order to perform high-accuracy measurements in the deep UV region, a sufficient quantity of light and significant low stray light are required. The transmission spectrum of a silica plate measured with the Direct Detection Unit DDU-DUV(option) is shown in the left figure. Spectra with significantly lower noise are obtainable in the ultraviolet region.