inspeXio SMX-225CT FPD HR Plus - Options
Microfocus X-Ray CT System
Metal Artifact Reduction Software
The Metal Artifact Reduction Software is a reconstruction software program used to reduce metal artifacts in the cross-sectional images acquired using Shimadzu's micro-focus X-ray computed tomography system, inspeXio SMX-225CT FPD HR Plus. This software allows for easier and more accurate analyses in the cross-sectional images.
HADI-S
2D Image Processing Software
This two dimensional image processing software enables sophisticated image processing. Various image processing such as dimension measurement and filtering is possible for transmission images and cross-sectional images.
VGStudio MAX
3D Image Processing Software
This is an extended version of VGStudio. Extended functionality includes animation creation (rotation, truncating, and viewpoint movement), measurement of length, angle, minimum distance, histogram, volume, surface area, void ratio, ROI extraction, image filtering, and multiple 3D image alignment
POLYGONALmeister
Polygon editing software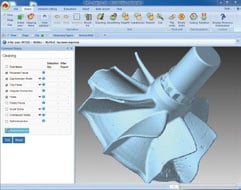 POLYGONALmeister is a polygon editing software which solves various problems such as noise and artifacts with polygon data produced by measuring the surface of objects, and reduces data size. It is effective when using measurement data in design / analysis / 3D printing etc.
Microfocus X-Ray CT System Software