Certified Pre-Cleaned Vials for Total Organic Carbon Analyzers
Measuring the total organic carbon (TOC) content in pure water involves a risk of laboratory equipment contamination having a major impact on measurement values. Therefore, vials used for TOC measurements must be cleaned, dried, and stored very carefully. If those steps are not always performed, the reliability of measurement values can be compromised.
In contrast to conventional vials, Certified Quality (CQ) vial maximize reliability and enable higher workflow efficiency. They are prepared with strictly controlled manufacturing and cleaning processes that inhibit leaching of impurities into the vial down to extremely low levels. That makes them ideal for measuring pure water or low-concentration samples.
Features
Reliability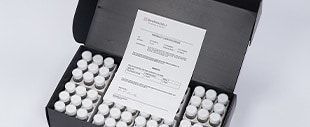 CQ vial include a product certification. The vials are shipped with a certificate that certifies that the quantity of organic impurities leached into the vial is less than 10 μg C/L.
CQ vial are pre-cleaned. This process prevents accidental contamination during cleaning, drying, or storage in the laboratory.
CQ vial are sealed with a cap and septum and packed in a plastic box that inhibits dust or other matter.
See here for data comparing CQ vials and normal vials
Efficiency
CQ vial are pre-cleaned. They can be used immediately after opening the box.
Cleaning and drying operations are no longer needed. It also eliminates the need to carefully avoid contamination during storage. That means significantly less time and space are required for operations.

{"title":"Downloads","description":"Download the latest brochure.","source":"product","key":4553,"max":"30","filter_types":["brochures"],"link_title":"View other Downloads","link_url":"","pdf_links":[]}
{"title":"Applications","source":"product","key":4553,"max":"3","filter_types":["applications","application_note","posters"],"link_title":"Learn more","link_url":"\/an\/products\/total-organic-carbon-analysis\/toc-analysis-consumables\/cqvial\/applications.html","config_list":[],"page_links":[]}
{"title":"Technical Documents","source":"product","key":4553,"max":"3","filter_types":["technical","technical_reports","white_papers","primers"],"link_title":"Learn more","link_url":"\/an\/products\/total-organic-carbon-analysis\/toc-analysis-consumables\/cqvial\/applications.html#tbaleAnchor_technical","config_list":[],"page_links":[]}
{"title":"Manuals","source":"product","key":4553,"max":"3","filter_types":["manuals"],"link_title":"Learn more","link_url":"\/an\/products\/total-organic-carbon-analysis\/toc-analysis-consumables\/cqvial\/applications.html#tbaleAnchor_manual","config_list":[],"page_links":[]}