200 N and 1 kN Roller Grips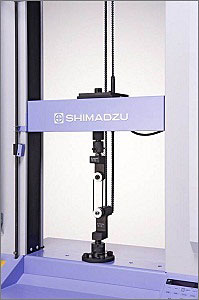 Features:
For testing the strength properties of elastomeric rings
Includes both 0.2 kN (44 lbf) and 1 kN (220 lbf) roller grips sets
Grip sets are designed for specific models of universal testers


Relevant Materials:
Rubber

Relevant Specimens:
Rings

Relevant Standards:
ISO 37, ASTM D412, JIS K6251, JIS K7312
This roller grip set includes both 200 N (44 lbf) and 1 kN (220 lbf) roller grips for tensile testing elastomeric ring specimens. The 200 N grips have a 4.5 mm (0.18 in) diameter roller. The diameter of the roller on the 1 kN grips is 25 mm (0.98 in).

During testing, as the crosshead moves, a chain connecting the bottom grip and the crosshead rotates, causing the ring specimen to rotate, ensuring symmetric testing of the specimen. Due to this crosshead connection, roller grip sets are tailored to specific testing machine models.
{"title":"Downloads","description":"Download the latest brochure.","source":"product","key":4579,"max":"30","filter_types":["brochures"],"link_title":"View other Downloads","link_url":"","pdf_links":[]}
{"title":"Applications","source":"product","key":4579,"max":"3","filter_types":["applications","application_note","posters"],"link_title":"Learn more","link_url":false,"config_list":[],"page_links":[]}
{"title":"Technical Documents","source":"product","key":4579,"max":"3","filter_types":["technical","technical_reports","white_papers","primers"],"link_title":"Learn more","link_url":"#tbaleAnchor_technical","config_list":[],"page_links":[]}
{"title":"Manuals","source":"product","key":4579,"max":"3","filter_types":["manuals"],"link_title":"Learn more","link_url":"#tbaleAnchor_manual","config_list":[],"page_links":[]}