In principle, the various columns used for HPLC can also be used for SFC, but in order to ensure the CO2 is kept in a supercritical fluid state, make sure the column has the pressure capacity necessary for maintaining the required pressure level. Polymer-based columns require particular care because the pressure increases during use as the stationary phase expands.
Since supercritical carbon dioxide has about the same polarity as hexane, the main SFC separation modes will presumably behave similar to normal-phase chromatography, but unlike HPLC, columns with properties of both normal-phase columns (such as silica, diol, and CN) and reversed-phase columns (such as C18, cholesteryl, and phenyl) can be used. Furthermore, the supercritical carbon dioxide used for SFC has high mobile phase diffusivity and low molecular density, making it more prone to secondary interactions than HPLC and resulting in major changes in separation behavior depending on the column stationary phase.*1) Therefore, to determine optimal conditions, it is important to consider analytical conditions using a wide variety of stationary phase types.
Though supercritical carbon dioxide has low polarity similar to hexane, as mentioned above, it can be mixed with highly polar solvents. That means when optimizing the mobile phase and stationary phase for SFC, normal-phase columns can be replaced with a reversed-phase column without changing the type or composition of mobile phase or modifier. Fig. 1 shows a comparison of the elution order for HPLC and SFC. For HPLC, mobile phases are matched to either the reversed-phase or normal-phase separation mode based on mobile phase properties. That involves purging the solvent from inside the system each time the separation mode is changed. For SFC, the same mobile phase conditions can be used for either the reversed-phase or normal-phase separation modes, which means separation results can be checked by simply replacing the column.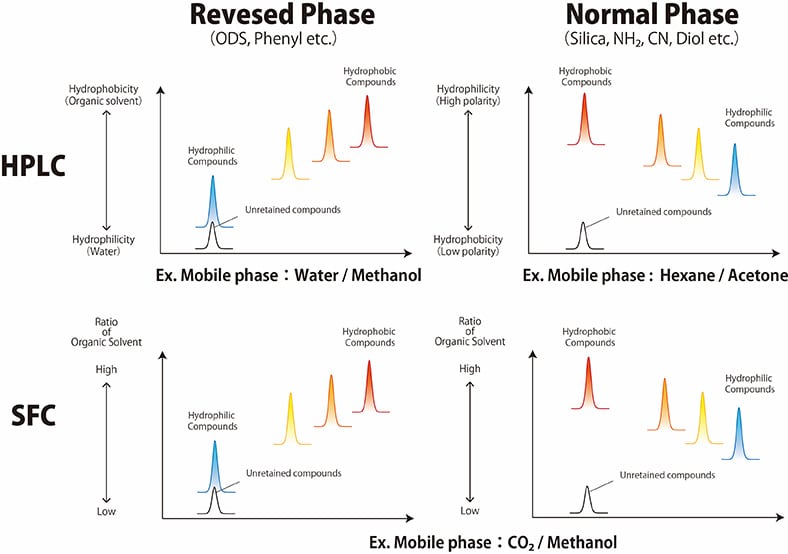 Fig. 1 Comparison of Elution Order for HPLC and SFC
Column Selection Guide
Given that normal-phase separation is the main separation mode used for SFC, normal-phase UC-Diol and UC-Diol II columns are widely used as the first choice for SFC systems. The next most widely used columns are UC-Py columns, due to the similarity in separation behavior to ethylpyridine-based columns. Whereas HPLC uses aqueous or non-aqueous mobile phases with significantly different compositions for reverse-phase and normal-phase analysis respectively, SFC uses the same mixture of supercritical fluid carbon dioxide mobile phase and a modifier (a water-soluble organic solvent such as methanol) regardless of the stationary phase. That means the same mobile phase composition can be used for serial analysis involving all types of columns. Since supercritical carbon dioxide can penetrate tiny pores more easily, it promotes higher interaction with the stationary phase. That means SFC offers the possibility of separating isomers or other compounds that are difficult to be separated by HPLC. In particular, columns with unique or multiple interactive effects can help improve separation using SFC.
Fig. 2 shows an index of elution order and retention behavior for a variety of columns used to analyze ibuprofen (acidic compound), indapamide (neutral compound), and propranolol (basic compound). Fig. 3 shows chromatograms obtained using diol group, hydroxyphenyl group, and cholesteryl group columns.
Shim-pack™ UC Series Columns
Shimadzu offers the Shim-pack UC series of columns designed specifically for SFC analysis. The line of Shim-pack UC series columns is listed in Table 1.
The set of six columns with different separation selectivity characteristics is especially useful when scouting for columns during method development (Fig. 4)
Fig. 4 Set of Six Shim-pack UC Series Columns
Reference.
*1) Comparison of Retention Behavior between Supercritical Fluid Chromatography and Normal-Phase High-Performance Liquid Chromatography with Various Stationary Phases
Molecules 2019 Jul; 24(13): 24-25
Movies
Related applications