MB140 Portable Magnetometer
The MB140 is a portable fluxgate magnetometer for highly sensitive measurement of magnetic fields produced by magnetic materials such as iron and nickel, and magnetic fields produced by objects with an electric current.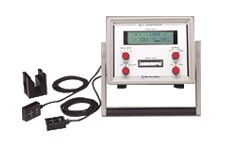 Applications
Measurement of geomagnetism and changes in geomagnetism
Measurement of magnetic field produced by magnetic materials
Measurement of magnetic field produced by electrical current
Measurement of magnetic shielding effect for magnetically shielded rooms and magnetically shielded cases
Detection of moving magnetic material
Evaluation of material magnetism
Features
High resolution to 0.3 nT
Simultaneous measurement of single axis differential, display of 3 axis composite value
Analog and digital output display
Two power supplies: 100 V AC and dry cell batteries
Capable of measuring relative permeability of 1.0-2.0 (optional)
This product consists of a controller unit and a probe. The magnetic fields and relative permeabilities shown below can be measured depending on the probe to be connected to the controller unit.
| Measured parameter | Probe |
| --- | --- |
| 2 axis component magnetic field | Magnetic field probe I |
| 3 axis component, single axis differential component and 3 axis composite magnetic field | Both magnetic field probe I and magnetic field probe II (optional) |
| Relative permeability | Magnetic permeability probe (optional) |
Specification/Configuration
Measurement range
0 to ±100μT

MB140
DL
(5.28 MB)
Frequency band
DC to 200 Hz
Resolution
0.3 nT (at DC to 1 Hz region)
Power supply
Four "D" dry cell batteries, or 100 V AC, 50/60 Hz
Configuration
Control unit 1 piece, magnetic field probe II (single axis, differential), 3 axis measurement base, differential measurement base, permeability probe, permeability reference sample

* Appearance and specifications are subject to change without notice.