What are Nexera Technologies?
Nexera is an all-round LC system like no other and is truly worthy of being called a next-generation UHPLC system.
It uses the most advanced technologies for allowing customers to pursue high-speed, high-resolution, high-performance and expandability, so-called "Nexera Technologies".
"The Only No Compromise UHPLC System"
Maximizing Throughput
With a pressure range up to 130 MPa, high-speed injection, overlapping injection and highly efficient gradient mixing, Nexera enables ultra-high speed and ultra-high resolution analysis.
Technologies:
Maximizing Analytical Reliability
Micro-volume plungers provide precise solvent delivery and low injection volumes to achieve excellent injection reproducibility and extremely low carryover.
The outstanding core performance capabilities of the Nexera provide highly reliable data in all types of application fields.
Technologies:

Nexera Mikros™

LC-Mikros™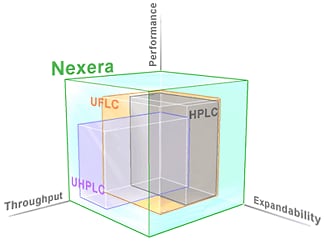 Maximizing Expandability
The Nexera column oven and autosampler, along with the modular flexibility of the system, expand the application range.
These applications include high-temperature analysis, green LC, auto-sample pretreatment and multidimensional LC separation.
Technologies:
Technologies for apparatus
Analytical Technologies

【Patent】 JP6265268, JP6070450
and corresponding foreign patent

【Patent】 JP5954497, JP5930066, JP6269803
JP6037040, JP5804070, JP5962845
JP6213572, JP6260709
and corresponding foreign patent