The future of MS: Technical discussions
Celebrating 50 Years of MS Innovation
We asked several Shimadzu engineers to discuss their ideas and hopes for the future of MS technology.
Technical Discussion Index
The future of MS technology
With cutting-edge technology that can measure microscopic particles both accurately and comprehensively, mass spectrometers have huge potential to revolutionise our daily lives. In recent years, MS instruments have become more common in all types of analytical labs. However, they are still costly and require a high level of expertise to operate effectively.
What kind of features are in demand for MS instruments, and what challenges do we face in incorporating them? In this discussion, Shimadzu staff compare their experiences of market trends in different regions and put forward their ideas for how to meet these future challenges.
Topics (Global Edition)
Easy to use even for non-experts
Providing a total solution
Portable with a small footprint
Envisioning the future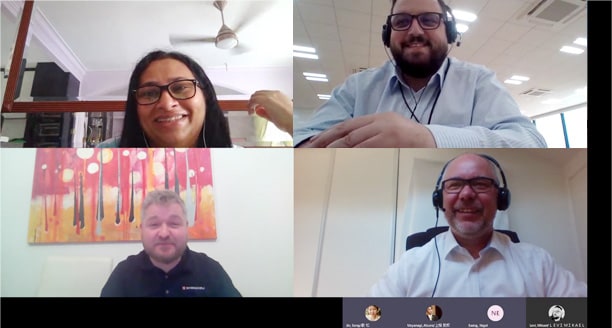 SHIMADZU EUROPA GmbH
Stéphane Moreau
SHIMADZU(ASIA PACIFIC)PTE LTD.
Sandy Nargund
SHIMADZU SCIENTIFIC INSTRUMENTS(OCEANIA)PTY. LTD.
Chris Bowen
SHIMADZU(CHINA)CO.,LTD.
Jin Song
SHIMADZU SCIENTIFIC INSTRUMENTS, INC.
Nigel Ewing
MS Business Unit, Life Science Business Department, Analytical & Measuring Instruments Division
Mikael Levi
Topics (Domestic Edition)
MS as an everyday, household device
First things first: make it compact and simple
Not a driving licence but an "MS licence"

MS Business Unit, Life Science Business Department, Analytical & Measuring Instruments Division
Eishi Imoto, Chu Xue
Ryo Kageyama
Nanami Sakashita
Global Application Development Center, Analytical & Measuring Instruments Division
Tomoomi Hoshi
Global Marketing Department, Analytical & Measuring Instruments Division
Ryo Yamaguchi