LabSolutions Insight - Features
Multi-analyte Quantitation Software
Intuitive Operations
LabSolutions Insight displays data in a format that enables intuitive operation and accommodates multiple user working environments.
Peak information is displayed in an easy-to-understand way for selected compounds to ensure that data analysis work can progress smoothly.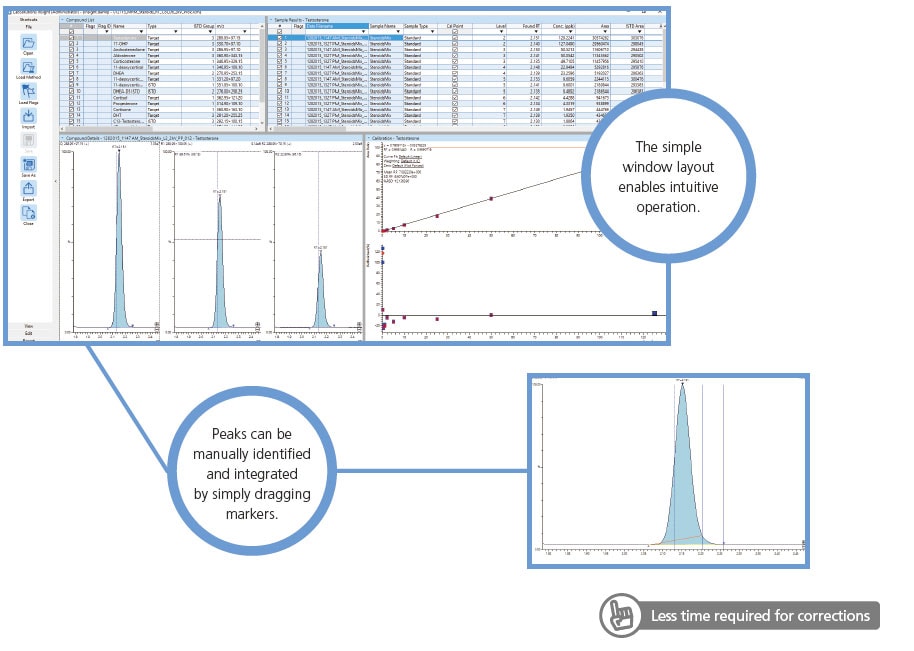 LabSolutions Insight supports using multiple monitors for data analysis, so that data for multiple analytes can be analyzed more efficiently. In addition to normal display windows, data can be displayed in a wide variety of formats to facilitate finding peaks that exceed specified criteria values.

Powerful Peak Integration Algorithm
i-PeakFinder, LabSolutions new peak integration algorithm, features functionality for fully-automatic integration, so that peaks can be detected with precision without any special parameter setting process. For screening analysis, which requires checking massive amounts of chromatogram data, i-PeakFinder can dramatically increase the productivity of data analysis.
High-Precision Peak Detection Without Any Detailed Parameter Setting Process Required
The i-PeakFinder fully-automatic integration function can appropriately integrate peaks, even without reconfiguring parameter settings.
Baseline Processing Made Simple
The optimal baseline processing method for given objectives can be selected and implemented easily.

Peak Detection Without Being Affected by Noise
Detecting peaks with almost no difference from noise can be extremely difficult, especially when analyzing low-concentration components. However, i-PeakFinder can detect such peaks with high precision, by focusing on the full width at half maximum of the peak.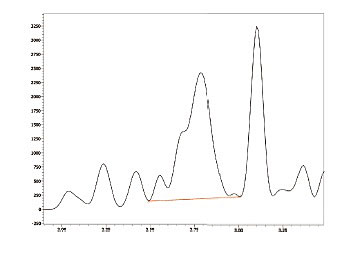 Carefully Selected Functionality for Supporting Data Analysis
Flag-based labeling, filtering, and peak comparison functions provides powerful support for analyzing multi-analyte multi-component data and are especially beneficial for food safety and forensic toxicology applications.
Quantitative screening of multi-analyte data requires comparing and reviewing large amounts of data. LabSolutions Insight is able to display reference chromatograms for comparison overlaid with sample chromatograms, so that the peak intensity and area can be confirmed intuitively for large numbers of chromatograms.
LabSolutions Insight Library Screening software*1 can display library search results for multiple analytes at the same time. That means target components can be identified precisely from MRM chromatograms and library search results.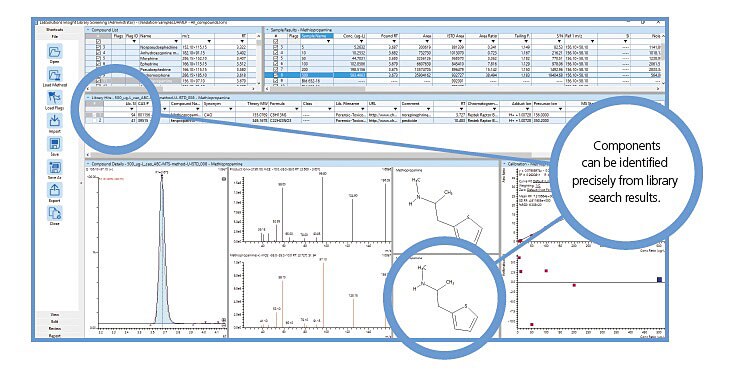 *1 Separate optional software must be installed to enable LabSolutions Insight Library Screening functionality.
Improved Area Reproducibility and Linearity

For leading and tailing peaks, the peak area can vary depending on how the peak edge is determined, which can end up affecting area reproducibility.
i-PeakFinder ensures reliable area reproducibility and linearity by using a proprietary algorithm to calculate baselines.
Note: i-PeakFinder algorithm, database and new workflow are compatible with LCMS only.
Compliance with Data Integrity Requirements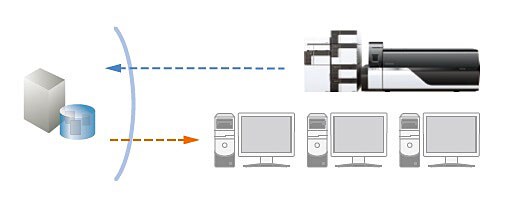 LabSolutions Insight is compliant with FDA regulatory standards, such as traceability and audit trail requirements for user and data management,required in pharmaceutical and CRO fields.
Database Used to Ensure Safety
LabSolutions Insight is able to create data analysis results by safely accessing data managed in LabSolutions databases. Therefore, it can create an environment where data can be analyzed in the safety of a LabSolutions DB/CS database.
Robust Security
LabSolutions Insight can ensure system operations that satisfy legal and regulatory requirements, such as user management, assignment of user rights, and data version management requirements.
Easily Understandable Audit Trails
The new workflow offered by LabSolutions Insight manages all information related to data analysis as a single file to achieve optimized, simple, and easy-to-understand audit trail functionality for multi-analyte data analysis logs.
Convenient Workflow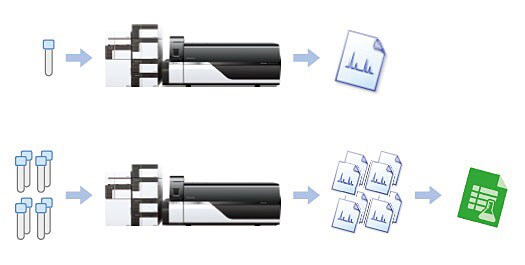 The previous software provided simple and robust data management by managing all information, such as acquisition conditions, acquired data, and data analysis results, in one file per analyte.
In the new workflow offered by LabSolutions Insight, results for all analytes are managed in a single file, so that results can be managed across multiple analytes to improve the efficiency of data analysis.
Centralized Management of Data Analysis Information
Multi-analyte data analysis requires evaluating data across multiple analytes and then managing those results. Managing that entire set of information as a single file enables simpler, more robust management of analyzed data.
Easily Compare and Review Results
The new workflow manages all data analysis results generated from a series of analyses in a centralized manner, so that any differences in results due to data analysis methods can be easily compared and evaluated.
Significantly Faster Loading Speed
To make the new workflow even more convenient, new technology was developed to significantly increase data loading speeds. That means the process of reviewing results can be started immediately, even when processing large amounts of data at the same time.
Using LabSolutions Insight in Combination with Databases and Method Packages
Downloads
Download the latest brochure.