Dimensional X-Ray CT System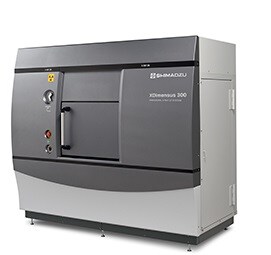 A "New Dimension" in Measurement The XDimensus 300 is a dimensional X-ray CT system capable of measuring the 3D internal and external geometry of sample interiors. It features a large-scale, high-resolution flat panel detector, which provides a wide field of view at excellent resolution, Shimadzu's proprietary new X-ray generator, with approximately three times the X-ray generating effciency of our previous models, and new software, which provides excellent operability. It also features an air conditioning unit to maintain a consistent temperature inside the instrument, a frame that provides high geometric stability, and an ultra-high-accuracy sample positioning stage. As a result, it provides a level of dimensional measurement accuracy impossible with conventional observation X-ray CT systems. Shimadzu is offering this new, unprecedented system for dimensional measurements, including the interior and exterior of industrial goods such as plastic molded parts and aluminum die cast parts.
Downloads
Download the latest brochure.