Autosampler for TOC-L Series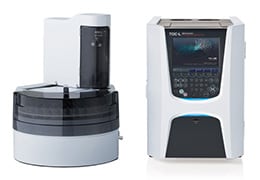 Vial type
Select from three vial types with different capacities to suit your application.
Combination of vial capacity and number of vials.
   - 24 mL vials x 93
   - 40 mL vials x 68
   - (9 mL vials x 93)
Magnetic stirrer
Optional magnetic stirrers agitate the sample in the vials to prevent the settling of suspended solids. Magnetic stirrers are installed at the measurement position and subsequent measurement position to thoroughly agitate the samples prior to measurement.
(Vials for 24 mL and 40 mL are available. If 24 mL vials are used, vials No. 1 to No. 85 of the 93 total vials can be stirred.)
Downloads
Download the latest brochure.
Applications
| Applications | Date Creation Date |
| --- | --- |
| | 2017-12-15 |