Evaluation of the Texture of Konnyaku Jelly
Texture Analyzer
Konnyaku jelly is a popular dessert in Japan. Made from the taro plant, Konnyaku is low in calories and high in vegetable fiber. However, cases have been reported of it sticking in the throat and causing choking.
Five commercially available brands of konnyaku jelly were subjected to compression testing to quantitatively determine their texture. The typical characteristic values used to express food texture were measured: hardness, cohesiveness, and springiness.

Compression loads were applied two times. The results show the hardness, cohesiveness, and springiness values that were calculated from the test force – time data.

The results indicate that, of the five samples, sample B is the hardest. This suggests that a high force is required to squash it in the mouth. Conversely, sample D has the lowest hardness and springiness, meaning that it is soft and easy to break down. Naturally, multiple elements are involved with food texture. These results do not provide a simple comparison, but viewing these samples overall indicates that a significant force is required to squash the jelly in the mouth without biting it.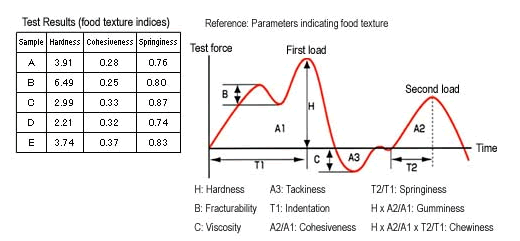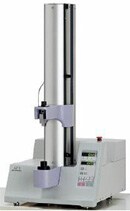 This destructive testing machine is used for the tensile, compressive, and bending testing of specimens. It conducts quantitative strength measurements on specimens by measuring the applied test force and the stroke to determine the specimen deformation. A wide range of jigs is available for the strength testing of packaging materials and for the numerical evaluation of food-texture characteristics such as consistency, texture, and mouth feel.