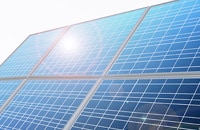 ​A clean energy revolution is taking place across the world. The renewable energy industry encompasses the production, transport, and storage of energy. Analytical techniques are playing critical roles in various areas of clean and renewable energy industries.
Shimadzu provides various solutions for photovoltaic cells, biofuels and biomass, hydrogen and fuel cells, lithium-ion batteries, artificial photosynthesis, and energy infrastructure to meet needs related to R&D, process development/control, and QA/QC within the renewable energy industry.​
Learn more about our solutions and how you can enhance your laboratory performance below.​