Shimadzu Corporation receives Frost & Sullivan 2018 APAC Fluorescence Surgical Imaging for Breast Cancer New Product Innovation Award.
Nov 21, 2018
WHO IS FROST & SULLIVAN?
Frost & Sullivan is a leading 57-year-old market research and consulting firm that tracks multiple industries including automotive, healthcare, information and communication technology, and more. Headquartered in Santa Clara, California, Frost & Sullivan employs 1,800 analysts and has offices in over 40 countries.
WHAT ARE BEST PRACTICES AWARDS?
The Frost & Sullivan Best Practices Awards have recognized exemplary achievements within a multitude of industries and functional disciplines for the last 18 years. Frost & Sullivan conducts best practices research to properly identify unmatched innovation and leadership among companies, products, processes, and executives.

Receiving the Frost & Sullivan New Product Innovation Award is a compelling third-party validation of a company's growth strategy and execution. Shimadzu's Best Practices Award is a strong indicator to employees, investors, customers, and the public that Shimadzu has superior products and solutions in the fluorescence surgical imaging for breast cancer market.
WHY SHIMADZU?
Frost & Sullivan's independent analysis identifies Shimadzu as a trendsetter in intraoperative near-infrared fluorescence imaging systems, specifically because it brings innovation in surgical treatment. Supported by the company's stellar reputation in medical imaging modalities, NIRF LIGHTVISION is expected to experience wide adoption as a surgical tool for breast cancer, while efforts are well underway for the technology to serve other anatomical regions in the future.

The company is acting on its promise to significantly influence real-world healthcare challenges with real-time medical imaging technologies that surgeons can rely on to locate lymph nodes, lymphatic vessels, and tissues precisely. This system shortens surgical procedure time frames, leading Frost & Sullivan to conclude that Shimadzu is on the right path for continuing its market e xpansion.

For its strong overall performance, Shimadzu is recognized with the 2018 Frost & Sullivan New Product Innovation Award in the breast cancer fluore scence surgical imaging industry.
Award write up by Frost & Sullivan (PDF : 658 KB)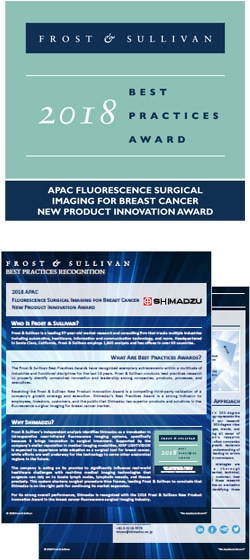 Archive